Blue Stone Hills, located on the hillside in Harrisonburg — behind Martin's Grocery Store, Kohl's, and Target — boasts some of the best views of the city (within city limits). This neighborhood is conveniently located to just about everything you could possibly need in Harrisonburg. Downtown is minutes down Route 33, otherwise known as Market Street, I-81 and JMU are convenient, and access to other parts of the Valley is easy. Blue Stone Hills is prime location for anyone who loves "city" life.
Homes in Blue Stone Hills vary in size from the modestly sized (yet usually very well kept and decorated) duplexes near the bottom of the hill to the stately, large homes toward the top of the hill. Most detached homes in this neighborhood are brick Colonial-style, and are highlighted by exquisite features. (I know of one that has an elevator!) Prices in this neighborhood range from the high $100Ks (for the attached homes) to somewhere in the $500Ks (or even higher) for the grander detached homes.
Blue Stone Hills is still considered a fairly new neighborhood, with homes being built anywhere from 1990 to present day. In fact, there are a few unimproved lots in Blue Stone Hills right now.
Quick Stats:
Average List Price*: $317,300
Average Selling Price*: $287,600
Average Home Size**: 3 bedrooms, 2.5 baths, 2341 square feet
2010 School Districts: Stone Spring Elementary School, Thomas Harrison Middle School, Harrisonburg High School
Links of Interest:
Map of Blue Stone Hills: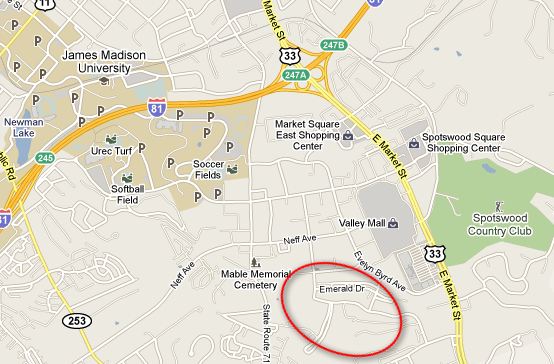 * This data is for homes sold from 11/4/09 – 11/3/10. Pulled from the HRAR MLS.
** This data is for any homes ever listed in this subdivision. Pulled from the HRAR MLS.