Cindy Ferek, a Physical Education teacher at Turner Ashby High School is seeking a grant for the school to construct a mile-long track to assist with physical health and education for special needs youth. This paved trail would allow her students and others in the community access to parts of the 70-acre campus that have never been accessible before. Her submission has earned her a top spot in the running, but now it's all up to a vote — see below about how you can vote to help this project!
We talked to Cindy Ferek about this, and it was such an inspirational chat. She said that this is her chance to make an impact in her student's lives and in the community. To quote Ferek:
"This trail will be built a pebble at a time. I've thrown out the first pebble, but if it stops there it won't do any good. Each vote is another pebble that goes toward getting this trail built. At the end of the voting session, if we get the funding, we'll be able to look back and see all the pebbles that built this trail."
How long has this been a vision for Ferek? In her 17 years of teaching, she's wanted to do this from the start. It took her 10 years to get the bikes (see the video below), which she got little by little. TAHS now has a fleet of 42 bikes, a shed, helmets, etc. The trail is the next step. It would benefit the school, the Special Education students, and the community. Ferek's desire to see this project to completion goes along with her daily mantra: "Be a blessing to others."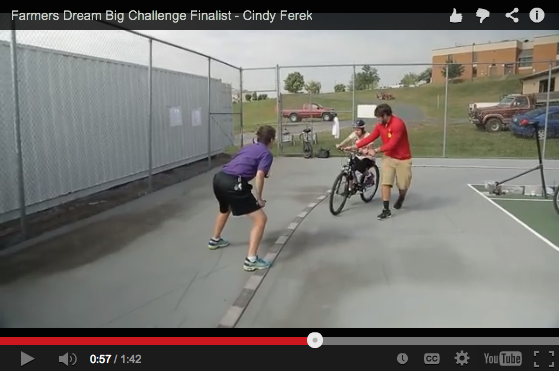 Your vote can help Cindy Ferek and Turner Ashby High School receive this grant!
All you have to do is click here, then go to Zone: Eastern and click the VOTE button for "Two Wheels Squared Driving Course Challenge." You may vote once a day during the month of October. You can also check out the short video explaining the need for this grant that Ferek put together.