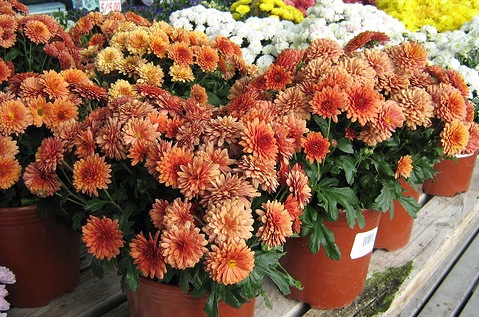 Fall gardening is often overlooked, but it is essential to get in the dirt now in order to have a spectacular spring and summer garden. Here are a few things you can do this fall to get great color (and great lawns!) after winter subsides.
Water. If we don't get much rain, it is important to continue watering your plants throughout early fall. This helps the plants thrive throughout the cold winter months, and they'll come back fabulously this spring!
Lawn Care. This is the most important time of year for lawn care! Aerate your lawn and reseed any thin or dead spots. Also continue to mow. Some sources say lawns will do great if you put your mower blade on a higher setting and mow a couple of times a week, and let the grass cuttings stay in the lawn (meaning, don't bag while you mow). You'll have a lush lawn this spring.
Landscaping Design. If you are thinking of adding a flower bed to your yard, create it now and get the soil ready so that your spring plantings will take off well.
Container Care. Have containers with summer plants still sitting around your yard? Now is the time to clean those out. They are either near the end of their season, or are past due, so clean them out and either fill them with fall annuals or put them away for the winter.
Perennials. Perennials don't take much maintenance this time of year. It is tempting to chop them all back to nearly nothing right now, but keep those clippers in the shed for a bit. It is a good idea to cut back diseased or dead plants, but let the rest of the plant grow and show off some fall color. If you have perennials that like to spread too much, it is a good idea to cut those back now.
Divide and Transplant. Speaking of perennials, now is a great time to divide or transplant those. They'll come back next year in full force.
Spring Bulbs. Garden centers — and even places like Costco — are carrying a variety of spring bulbs, and fall is prime time to plant those. The rule of thumb for planting spring bulbs is to wait until 6 weeks before the first frost occurs.
Fall is an important time for your garden. Think of fall gardening as preparing for spring. The more you do now to prepare, the easier it will be to maintain this spring, and the better your garden will look later!
Photo courtesy of KaCey97007 on Flickr.