James Madison University (JMU) is a large — and positive — factor in the economy of Harrisonburg and the surrounding area. JMU currently offers 68 undergraduate degree programs, 30 master's programs, approximately 18,000 students, and a land mass of 696 acres of campus with 108 buildings.
Many students live off campus, and there are hundreds of faculty and staff that live in the Harrisonburg area, many of whom relocate to this area and need to find a home. So, which neighborhoods are close to JMU? What are the characteristics of these neighborhoods? Which one is right for you?
We've put together a map of neighborhoods near JMU, with all the information you need to get started in your search. This map (below) includes homes for sale, apartment complexes, and popular neighborhoods in close proximity to campus. Click the image below for more information.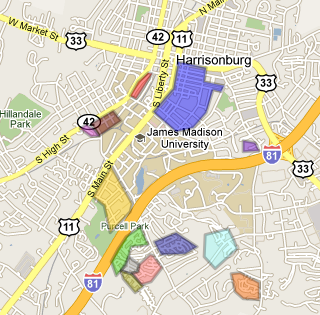 Because the above map includes mostly homes and apartments for students, faculty and staff may not find exactly what they are looking for in that map. However, we have comprised a list of neighborhoods that you might find more appealing for your lifestyle:
That is a small sampling of homes for sale and neighborhoods near James Madison University. If you are in need of more information or further assistance, do not hesitate to contact us!