Pleasant Hill Acres is a quiet neighborhood located in the heart of Harrisonburg, nestled between Main Street and High Street, with mature trees and wide streets. The only traffic that runs through this neighborhood is from those that are visiting the neighborhood for a specific purpose. In other words: through traffic is prohibited, which provides an extra dose of safety. Pleasant Hill Acres is located in close proximity to James Madison University, Greenberry's Coffee Shop, Purcell and Hillandale Parks, and a variety of great restaurants, too!
Homes in Pleasant Hill Acres vary in style from ranch to split foyer to split level to duplex. Most of them were built in the 1950's and 1960's, and have relatively flat grassy yards. Some are fenced, some are not. Homes in this neighborhood price in the $200,000's — low and high ranges depend on how many features the home has, the style, size, and of course, how much land it is situated on.
Quick Stats:
Average List Price*: $252,975
Average Selling Price*: $237,350
Average Home Size**: 4 bedrooms, 2 baths, 2277 square feet
2010 School Districts: Keister Elementary School, Thomas Harrison Middle School, Harrisonburg High School
Links of Interest:
Map of Pleasant Hill Acres: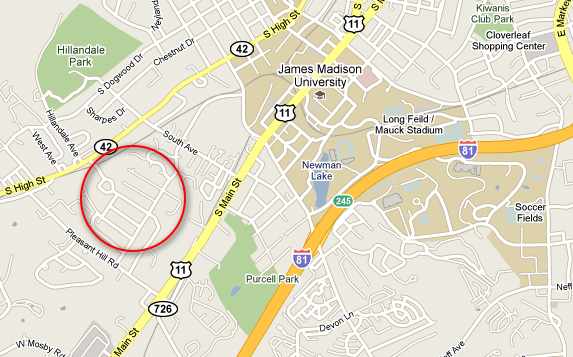 * This data is for homes sold from 2/13/09 – 2/12/10. Pulled from the HRAR MLS.
** This data is for any homes ever listed in this subdivision. Pulled from the HRAR MLS.