You may have heard about the new documentary coming into theaters soon called "Waiting for Superman." It basically challenges the education system in the United States. Watching the preview for this movie [here] made me think about the public school system in Harrisonburg and Rockingham County. How do our schools stack up against the rest of the state? Do we have good schools in our area?
For simplicity's sake, lets take a look at just public high schools in the area. Click on the chart below to view a larger image.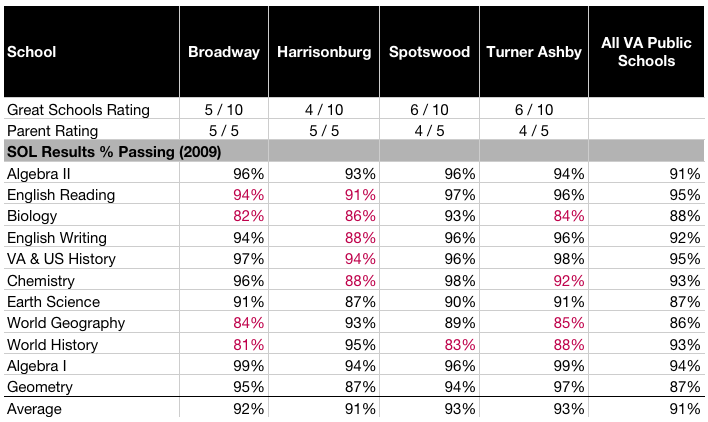 The "Great Schools Rating" is a rating given by GreatSchools.org which gives an overview of each school's test results. They are based on a comparison of test results for all schools in the state. The "Parent Rating" is a rating given by parents, students, and teachers/staff members who have signed into GreatSchools.org and written a review. The reviews are based on the excellency of teachers, strength of the principal/leadership, and level of challenge in the academic programs.
All of the red numbers indicate a score lower than that of the state average. None of the schools in Harrisonburg or Rockingham County have scored higher than the average in all categories, but Spotswood High School has scored higher than the state average in all categories except for World History. Overall, each public high school in our area has an average SOL testing score of the state average or higher.
Without taking any other aspects of education into consideration (i.e. athletics performance, electives offered, teacher experience, condition of facilities, etc.), we can conclude that merely by comparing SOL test scores, the public high schools in our area are above average. All of the parent ratings are quite high, too, which says something about how they view the academic level and the folks in charge who are leading their children.
Could our schools rate better? Of course. We know folks in school administration and on school boards in Harrisonburg and Rockingham County, and they are working hard to make our schools better with the resources they have.
Note: East Rockingham High School is a brand new school that opened up in August 2010, and split from the Spotswood school district. Because this school is so new, there is no data to report, and this school is not listed in the chart above.
Information in the chart above gathered from greatschools.org.