Bridgewater is a great place to live (I know… I'm a resident!). It is located 5 miles south of Harrisonburg, with Route 42 turning into Main Street through this quaint and friendly little town. The population is about 5,000, and boasts such entities as Dynamic Aviation, Shickel Corporation, Marshall's, Purdue, and Bridgewater College. Many homes in Bridgewater are new, and many are old. You'll find home styles of all shapes and sizes — one-level brick ranches, two-story Colonials, old farmhouses, contemporaries, cape cods, townhomes, apartments, and duplexes. In this blog post, I thought I'd look at how home values are holding up in Bridgewater.
Before diving into the details, a disclaimer: the HRAR MLS doesn't have the ability to run a search strictly within town limits. Therefore, the data below includes all residential properties with a Bridgewater mailing address.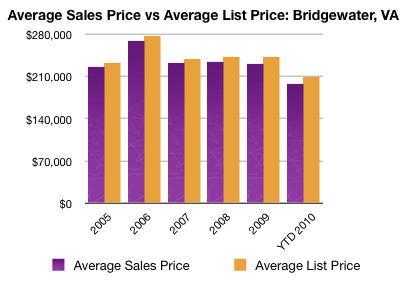 A look at the sales prices helps us figure out what the average home is selling for. Over the course of the past five years, prices rose from 2005 to 2006, then fell back again in 2007 to just above the 2005 prices, remained steady, and fell in 2010 (year-to-date) again.  In 2005, the average sales price was about $227k, and in 2010, the average sales price (so far) is just under $200k. That is a drop of over 12% for the 5-year span.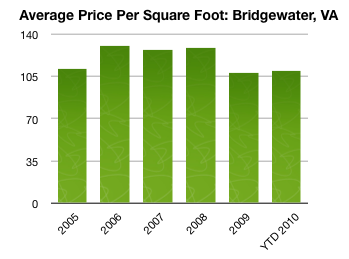 Average price per square foot is a very important statistic in terms of finding home values. It isn't completely perfect, but I find that watching this number can give a good idea of what the market is doing regarding home values. Homes in Bridgewater tend to be holding their value pretty well. There was a drop from 2008 to 2009, but average price per square foot has increased slightly from 2009 to 2010 YTD. The industries based in Bridgewater are also holding steady, and some are even hiring, so that lends toward positive home values as well.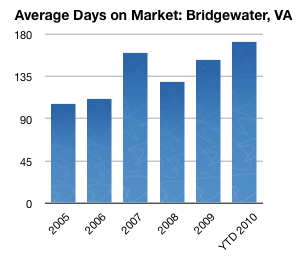 This last chart shows us the average days on market for homes that have sold in Bridgewater. Homes are sitting on the market longer now than they were five years ago — an increase of 66 days, or about 62%. 2005 was a peak seller's market, with homes sitting on the market for just over 3 months. We agents like to call those the glory days, and know that 2005 was completely ideal, so the average days on market increase from 2005 to now is understandable. However, the market will balance out eventually between a buyer's market and a seller's market (it always does), and this statistic, too, shall change again.
Overall, Bridgewater fares pretty well in terms of the real estate market. Could things be better? Of course! But they could also be worse.
Stay tuned for market updates on other towns in our area!