Dayton is a small town (population 1,196 according to the 2010 Census) located between Bridgewater and Harrisonburg on Route 42. If you ever want to live "where everyone knows your name," Dayton is it… in a good way! Local folks head to Dayton for many things: the Dayton Farmers Market, Silver Lake Mill, Thomas House Restaurant, shopping (try The Primrose House and The Cottage!), and more. Dayton also hosts many events throughout the year, most notably the Dayton Days Autumn Festival, when the streets of the town are filled with people of all ages and stages, perusing many goods and eating delicious homemade treats. Now that you have an idea of what it is like to live in Dayton, how about looking at how the real estate market is holding up in this small town?
Before diving into the details, a disclaimer: the HRAR MLS doesn't have the ability to run a search strictly within town limits. Therefore, the data below includes all residential properties with a Dayton mailing address.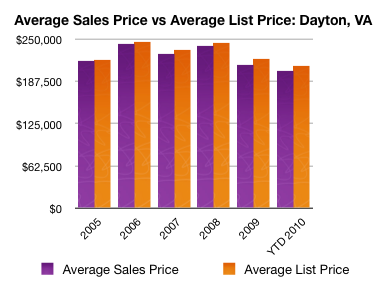 The average home prices in Dayton usually hover in the low $200,000s — both in sales and list prices, with the average sales price so far this year at $204,767. Compared to the past five years, Dayton has held up very well in terms of sales prices, which eludes to the fact that Dayton has not been hit as hard by the downfall in the economy. The change in average sales price from 2005 (the ideal real estate year) to 2010 YTD is -6.3%, which fares better than its close by neighbor, Bridgewater (-12.4%).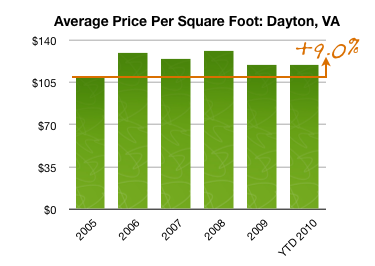 Wow! For the price per square foot to be UP from 2005 is almost unreal. The average price per square foot was $110.15 in 2005 compared to $120.08 so far this year. As one of the primary indicators of home values, average price per square foot making positive trends means good things for homeowners in Dayton. (However, we should note that with only 26 home sales, we are working with a very small population sample.  This will be an interesting data point to track over the next few years.) The value of homes in Dayton is up 9.0% from five years ago, but down from the peak of the past five years in 2008. The average price per square foot in 2008 was $131.53 and so far this year it is $120.08.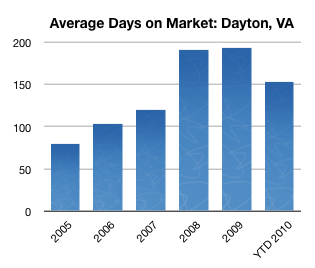 Homes are taking much longer to sell in Dayton these days than they were just three, four, and five years ago. It took only 80 days on average to sell a home in 2005, and so far this year it is taking 154 days. That is a difference of 92.5%. Yikes! Although this change seems drastic, it isn't out of line compared to other local areas. Bridgewater's average days on market for 2010 so far is 173, and the City of Harrisonburg's is 204.
Dayton's real estate market is doing fairly well this year, considering all of the negative results in other towns near Harrisonburg. Sales aren't extreme (about 33 sales per year on average), and they are modestly priced in the low $200k range. Plus, the values are holding strong, if not improving.
Stay tuned for market updates on other towns in our area!