In Harrisonburg and Rockingham County, we're starting to see an upswing in the real estate market, which has been in a lull for quite a while after the devastating effects of the Great Recession. According to Lawrence Yun, Chief Economist for the National Association of Realtors® (NAR), "the first quarter [2011] ended with decent home sales activity, with existing homes selling at an annualized pace of 5.1 million." Last year, there were 4.9 million home sales, so this is a good sign for the national market!
As for the Harrisonburg and Rockingham County real estate market, here is a chart showing home sales (single family properties only) from May through April*: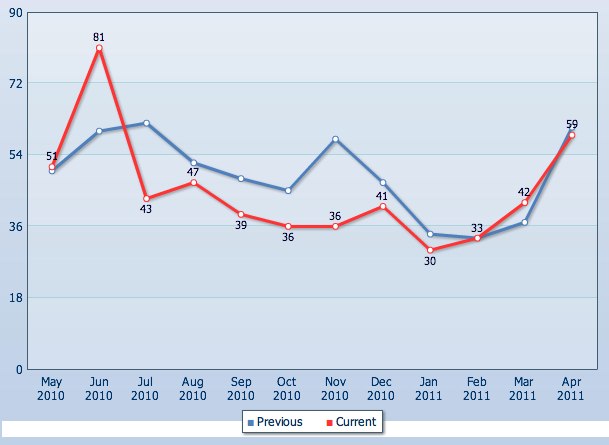 Will the rest of the year promise to keep up with this pace? Probably. Here's why (source: NAR):
More jobs will be created
Rising stock market wealth
Rising apartment rents
Continuing high affordability conditions
Home values at historically justifiable levels
Investors looking to hedge against inflation
Foreigners buying U.S. homes on the cheap
Of course, there are other things to consider, such as high gas prices, the possible termination of the MID, and requirements for a 20% down payment on conventional loans.
As always, time will tell how the market will fare over the course of 2011, but the rise in home sales is one big step to a better, healthier economy.
Oh, and if you are wondering how the NAR calculates existing home sales, here's an article about just that.
* Data taken from the HRAR MLS. Single family home sales in Harrisonburg and Rockingham County (including Massanutten Resort) closed from May – April of each respective year displayed.