May 2011 showed more positive changes happening in the Harrisonburg and Rockingham County real estate market than last month, but we're still not where we'd like to be (which, obviously, is a significant increase in sales and home values). We did see a modest increase in list and sales prices this month. Let's take a look at the charts below for more detail: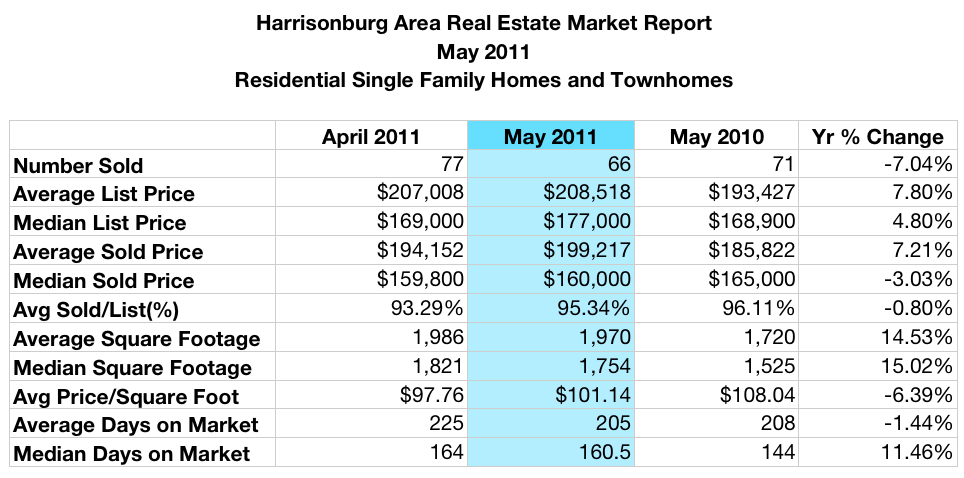 Compared to last May, sales are down by 7.04%, but the average sales price is up by almost 8%. The average and median square footages of homes that sold this month compared to last year at this time are also up by about 15%. We're seeing fewer homes sell these days, but prices are increasing slightly, and folks are buying larger homes this year than last. The days on market stat is interesting as well — average DOM decreased by 1.44%, but median DOM increased by 11.46%. May 2010 showed better price per square foot at $108.04, whereas May 2011's is at $101.14 — that is a decrease of 6.39%.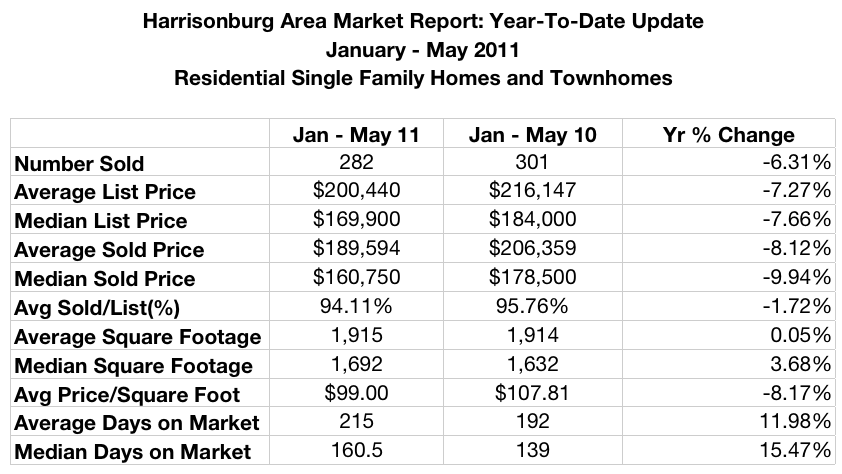 Year-to-date figures always paint a better picture of the local market than simply looking at one month compared to another. As we see in the chart above, home sales are down compared to last year by 6.31%. Sales and list prices are also down, as are home values. Homes are sitting on the market for longer periods of time before selling, too.
Again, as we reported last month, we have seen an uptick in homes under contract, so we hope to see the sales numbers increase in the next month or so as those transactions close.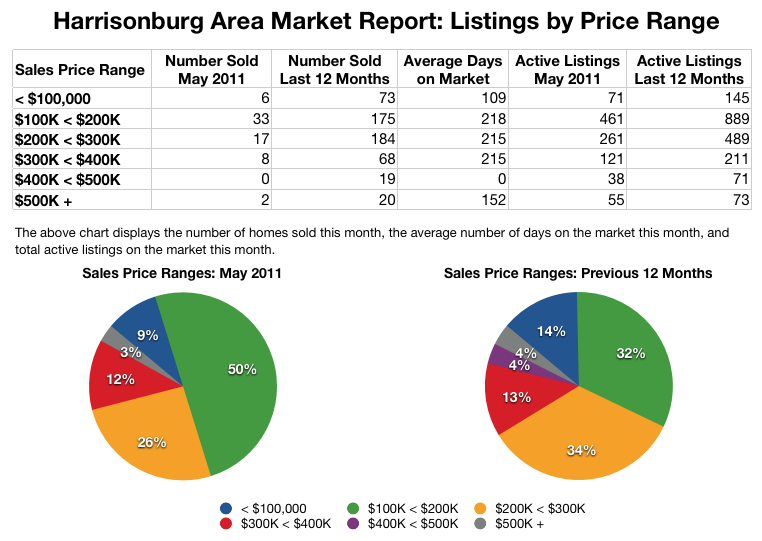 This chart is especially helpful for sellers, who may be looking at how specific price ranges are performing. As usual, the most sales occur in the $100k – $200k price range. However, those homes sit on the market the longest as well, likely because of the vast amount of inventory in that price range. No homes in the $400k – $500k price range sold in May 2011, and 2 over $500k sold. Those 2 homes sat on the market for an average of 152 days.
So for now, we're in a real estate lull, and are hopeful to see some positive changes occurring over the summer. Stay tuned for our next market report!