If you've driven on Port Republic Road or Neff Avenue recently, you've probably seen the major construction taking place! James Madison University is developing an 85 acre athletic field complex, and has been underway since late 2009. It is scheduled for completion in March 2012 and opening that summer, so they are making some big progress, which is obvious when you visit the site!
Right now there are lights and foundations in place, some grass has been planted, and earth continues to be moved and shaped for the future athletic fields of JMU. Soon, though, it will look like the rendering below [click the image to view a larger version].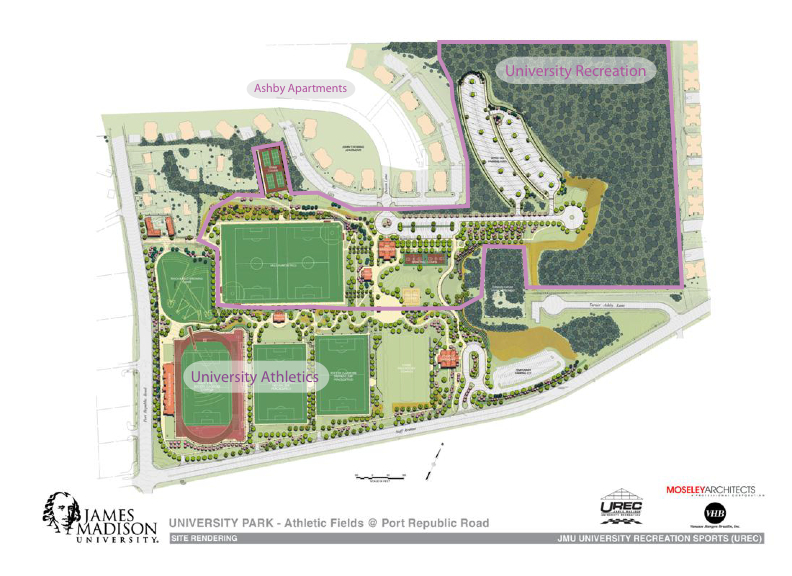 This complex will be called "University Park" (or "UPark") and according to JMU's website dedicated to this new complex, will include these features:
The Gatehouse will serve as a welcome center and will include an equipment checkout area, an administrative office, restrooms, dressing rooms and a meeting room.

A large parking lot in the upper portion of the park will serve both recreation and athletic facilities and a smaller lot will be located adjacent to the recreation gatehouse.

An open event lawn will be utilized primarily for informal recreation but may also be scheduled for special events.

Court areas will include four tennis courts, two sand volleyball courts and two basketball courts.

A multipurpose synthetic turf, measuring 400' x 620', will be available to serve three different purposes:  four flag football fields, three soccer fields, or two softball fields at any one time.

A pavilion will offer students an area for picnics and cookouts, and may also double as a performance venue.

Trails will be available for running, walking and jogging.

A nine-hole disc golf course will eventually be included on the site.

High and low rope courses will eventually be available through group programs and academic coursework to enhance team and leadership development.
To view more images, watch a video about this project, or read up on other features, visit the UPark website.