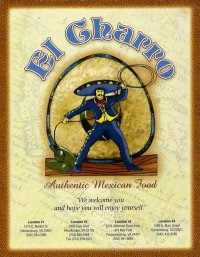 El Charro has long been an area favorite for Mexican cuisine and a relaxed, casual dining atmosphere. It has been so popular that owners (and brothers) Juan and Roy Gallardo decided to open a new location in Bridgewater. Last January, they purchased the old Hardee's building on the corner of Main Street and Dinkel Avenue in this small, charming town. The Bridgewater El Charro is scheduled to open this month. (The tables have been delivered, but they are still awaiting equipment.)
For a short history lesson: The El Charro chain started almost 23 years ago with a single location on Route 33 in Harrisonburg. Next came the South Main Street location, and then the one on Port Republic Road at 865 East.
So, when the doors open, make sure you head south to Bridgewater and try out the newest El Charro location. You'll be supporting the local economy while filling your belly with scrumptious mexican food!