Food Trucks are popping up all over the Shenandoah Valley! This is the fourth in a series of interviews with our favorite local food trucks…
This week I visited the third truck in the Trucks food truck court – La Taurina Grill II. It perfectly completes the tasty trifecta on the side of South High. Even in the sweltering heat, Miriam Galindez was tirelessly preparing and serving up her authentic Mexican fare. Recently having taken over the operation of the truck, Miriam and her husband, Edder, are making some changes – but one thing is for sure, the food coming out of their window is mouth-wateringly delicious.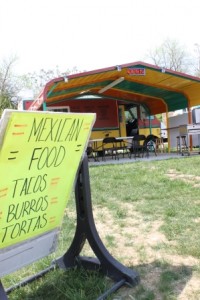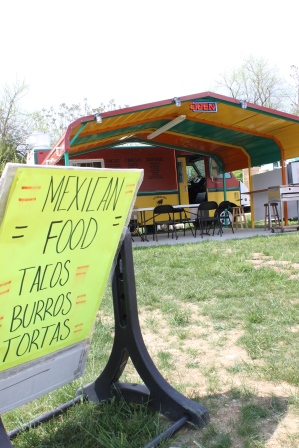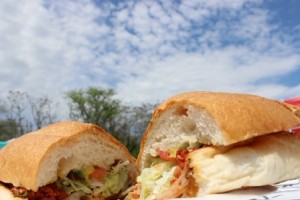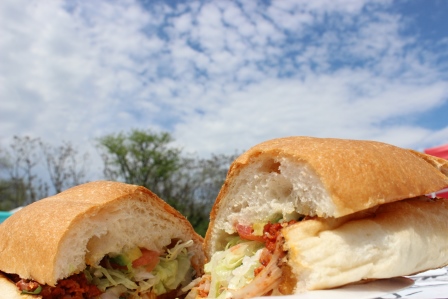 What is the most popular item on the menu?
MG: That's kind of hard to say because everybody gets everything. I don't think there's one thing that I would say is 'most popular'.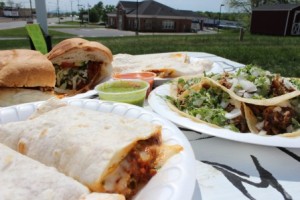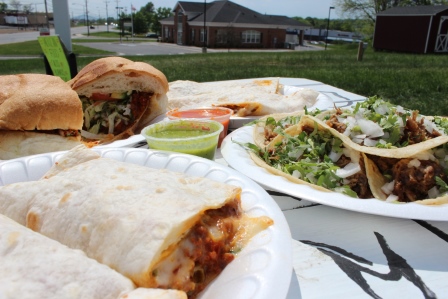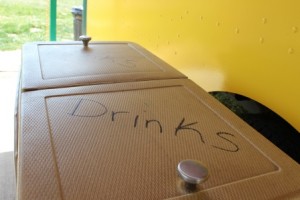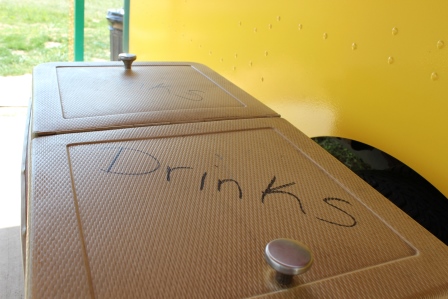 What is YOUR favorite item on the menu?
MG: I basically like everything here.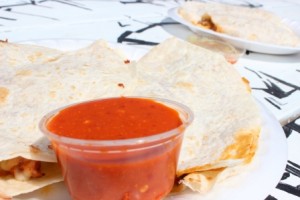 Who do you credit for your cooking skill?
MG: I always watched my mom….I never really had time to practice at my house, but whenever I moved by myself, that's where I started to do more cooking and trying to remember how mom would cook something. And also, since I'm working in another restaurant…I make most of their pizza there…I have a lot of practice with dough, so it's easy for me to make tortillas [which are made fresh everyday] or anything that has to do with dough.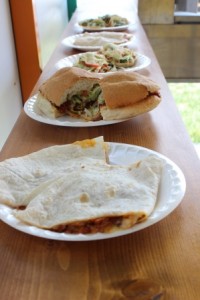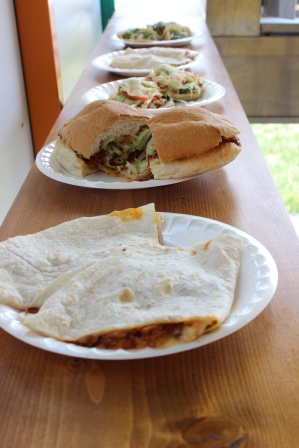 What is your favorite part of this job?
MG: My favorite part is [that it's] something totally different…something totally different that I never expected. I basically never thought that I could cook for a lot of people – not even for 5 people. I come from a big family – but yeah, I never really got to make meals. So this is something that I'd never experienced. And that's what I like – I like to experience new stuff. And also, when you get a client that tells you, 'this was really great. I've never tried this before and it's really, really good', I feel happy and it makes me want to continue on doing this.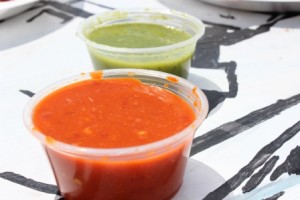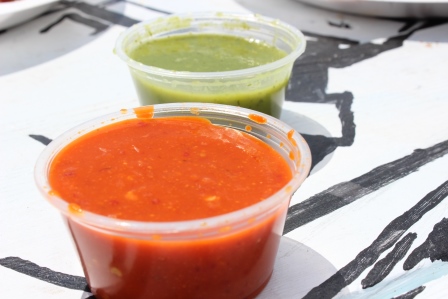 What is the most unique/difficult thing about working in a food truck?
MG: I guess it's that you have to be multi-tasking. For me that's something unique. I do like to be busy. I don't like to just be sitting down.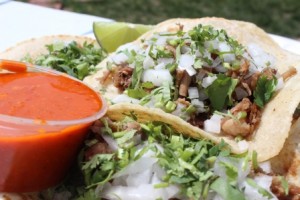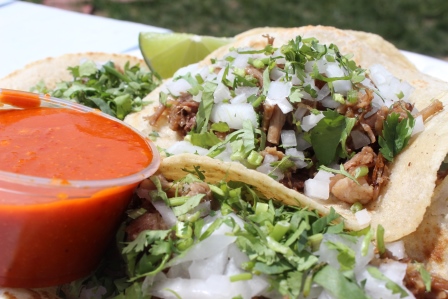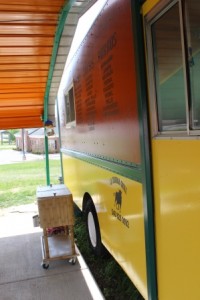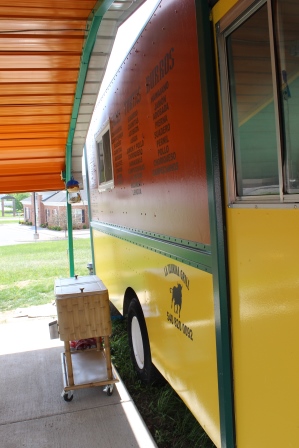 Why a food truck?
MG: When I started working here that was something I would ask, "why a food truck and not a restaurant?" And mom actually told me this….she said 'well, people want things fast'. And in a restaurant they have that in mind that they have to be waiting… for them to either be sitting down, or for them to be waiting for someone to get to them. When they know that they can come to a food truck, see what's there, and just ask, and they know that they'll start making it right away. So it's faster. That's something that's in the head of a person that if you go to a food truck it's going to be faster. It does make sense – it is faster than a restaurant.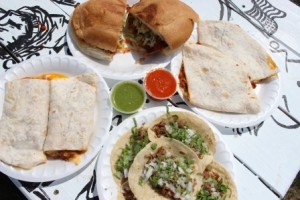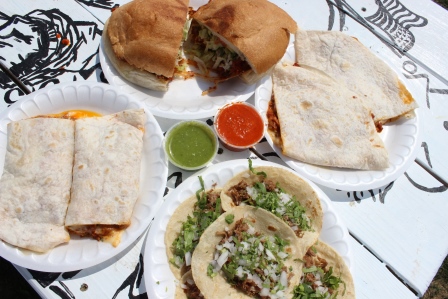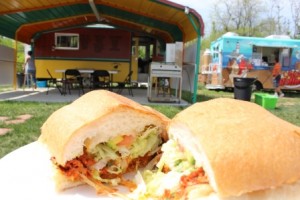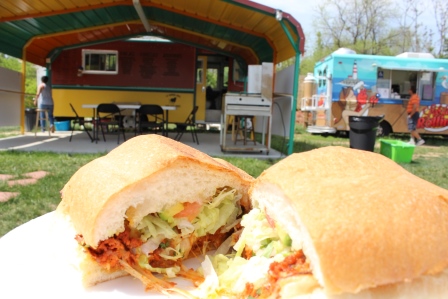 Why did you pick the kind of food you cook?
MG: I came from Mexico, so Mexican food is really what I know. I love food from everywhere, but this is basically what I know most.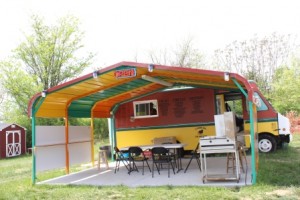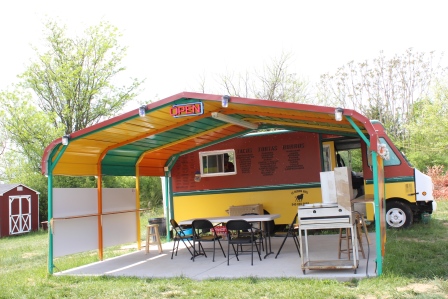 In the mood for some tasty Mexican food? Head on over to 1321 South High Street.
Hours (as of this post): Monday-Thursday & Sunday: 11am-8pm, Friday-Saturday: 11am-9pm
Planning an event? La Taurina Grill II offers catering! Call 540-246-8564 or email [email protected] for more information or to book them for your next event.