Typically in the Harrisonburg real estate market, April shows us pretty positive numbers, but this year has shown us that not every April is appealing. Every market experiences ebbs and flows, and it seems Harrisonburg and Rockingham County are caught in a bit of a slump at the moment. Read on to see what the negatives are, but also what we look forward to for our local market!
[ INFOGRAPHIC ]

[ TABLES ]

Sales dropped by 16.8% and homes are now sitting on the market longer than last year at this time (by just 5 days), which are both negatives. However, we did see an increase in median sales price of 3.9%, and average price/square foot has also risen by $4.47. The amount that sellers are getting in regards to their final asking price has also increased by 1.5%. Homes are moving more slowly, but they are selling for more money.

Contracts have also fallen, by 13.8% compared to last year at this time, but again we see that those homes going under contract are listed for higher prices, which should continue to bring the average price/square foot up. Days on market for homes that went under contract is shorter now than last year by 13 days. Though not every property that goes under contract ends up in a sale, most do, so this gives us hope that the 2014 real estate market will retain its health overall.
[ GRAPHS ]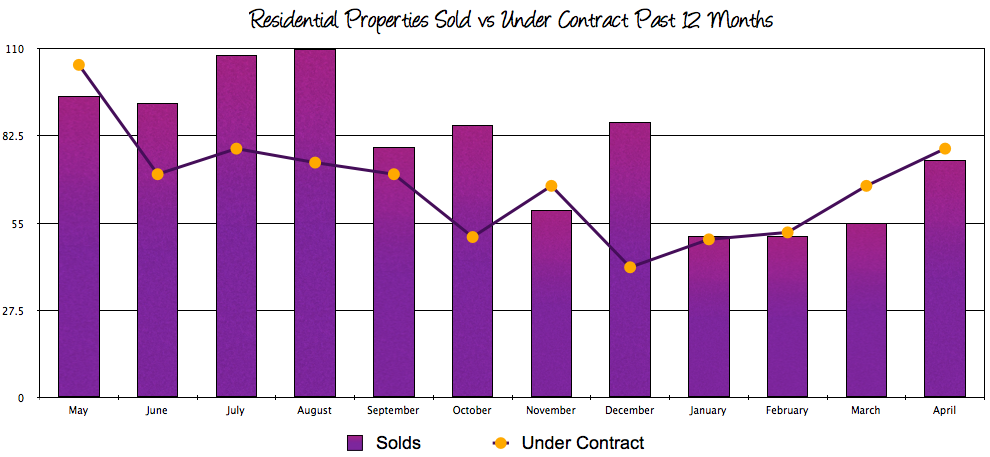 [ SUMMARY ]
Although we've seen a pretty significant drop in number of home sales this year so far, we can continue to hold out hope that 2014 will fare well overall. Contracts written has increased four months in a row, with April showing a large jump all on its own. We know that not all contracts written turn into sales, but most do, so we can look forward to seeing these contracts add to the sales number for the year. Other statistical highlights include an increase of 3.9% for median sales price, 1.5% for average sold/list percentage, and $4.47 for average price/square foot.
[ SHARE ]
Remember, you can always share any info you find valuable with your friends! Hover over "ShareThis" below to choose your favorite sharing method.