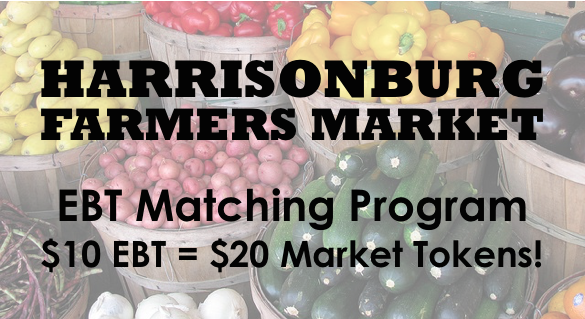 The Harrisonburg Farmers Market is now offering a program called Supplemental Nutrition Assistance Program, otherwise known as SNAP, which, according to the USDA website, "offers nutrition assistance to millions of eligible, low-income individuals and families and provides economic benefits to communities." Plus, all SNAP qualified customers will benefit from a matching grant allowing the farmers market to double their monies up to $10.00 per customer per market visit. 
Here's how SNAP works at the Harrisonburg Farmers Market:
Bring your EBT card to the ATM stand at the market.
Exchange your SNAP benefits for market tokens.
With the matching program, $10 EBT = $20 tokens!
To learn more, read about the benefits of SNAP, and watch this short video produced by a group of students at James Madison University: