We love our downtown and we love the work that Harrisonburg Downtown Renaissance has done to make Harrisonburg a vibrant, unique, and developing place. Every year HDR throws a big party (aka Renaissance Night) to raise funds and celebrate downtown. We think this is a great event and we're passionate about supporting the downtown we love – so, this year The Harrisonburg Homes Team is the main sponsor of Renaissance Night.
We're going to the event and we think you should too! We'll give you 6 reasons (in no particular order) of why you should clear your evening on Saturday, May 21st and attend Renaissance Night.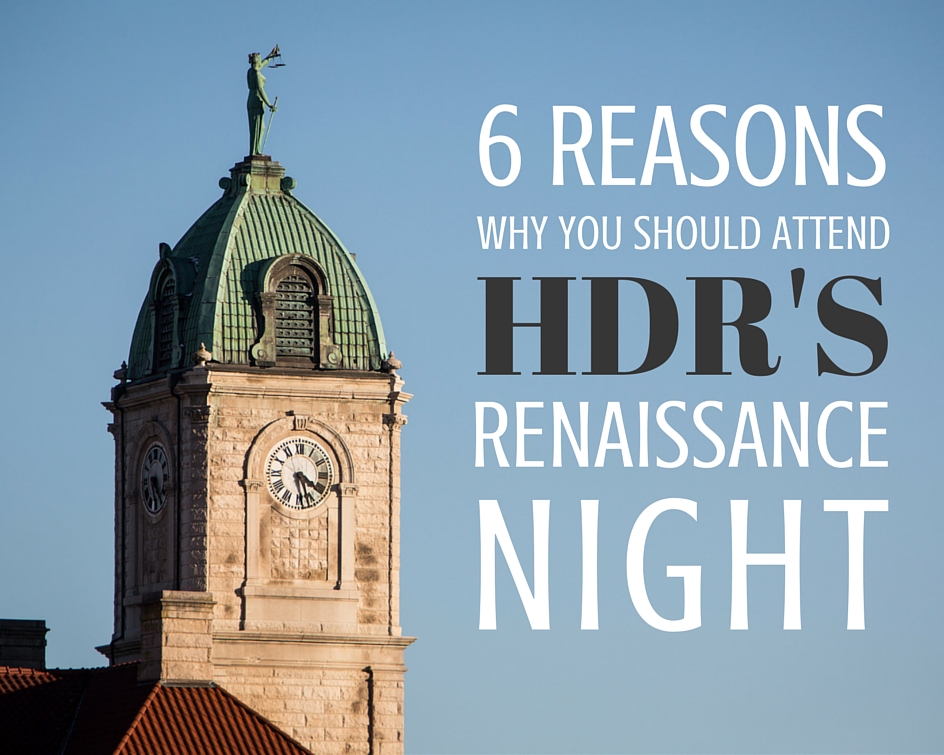 I connected with several past attendees and event coordinators to find out why they love this event so much.
1) IT'S A PARTY //
THE PERFECT EXCUSE TO DRESS UP FOR A NIGHT ON THE TOWN
Lauren Huber (Event Manager and HDR Director of Resources): Renaissance Night is really just a big party. People who attend our event love the social and relaxed feeling of the event and a reason to get dressed up.
Andrea Dono (HDR Executive Director): Renaissance Night is a great night on the town; who doesn't love good food, good people, and an open bar. We get a chance to have a big party to celebrate downtown's renaissance – where we have come and where we are going together.
2) FANTASTIC LIVE AUCTION //
DOZENS OF UNBEATABLE AUCTION ITEMS ALL IN ONE PLACE
Brant Suter (Regular Attender and Sponsor): My favorite part is the live auction.  There is a fun atmosphere that ramps up the bidding of the auction items.
Lauren Huber: There is also a silent and live auction that offers unique dining experiences, like having a Local Chop's gourmet chef prepare a unique meal paired with the best of Virginia's wines, Bella Luna is showcasing their new event space by offering a party for up to 65 people and includes pizza and gelato, end tables by Eugene Stoltzfus. So there are some great finds.
Check out the ever-growing list of auction items!
3) FOOD, GLORIOUS FOOD (& BAR!) //
INDULGE IN THE ALWAYS SCRUMPTIOUS FARES OF CAPITAL ALE HOUSE
Lauren Huber: There is great food by the Capital Ale House and an open bar.
Jaime Woolf (Manager of The Capital Ale House): The food that we serve has something for everyone.  We serve a wide variety of meats, seafoods and use many ingredients from our local farmers market.  We offer a great selection of craft beers and wine to guests. You will certainly notice many local beer selections!
4) SPECIAL PROJECT UNVEILED //
BE THE FIRST TO GET THE INSIDE SCOOP ON THE NEW DOWNTOWN PROJECT!
Lauren Huber: We are really excited about our special project for this year that will be unveiled at Renaissance Night.  It is the LoveDowntown: Art Installation.  We will be working with artists to create LOVE Sculptures in different languages that can then be found throughout downtown.  To kickstart this project we will be asking for donations at Renaissance Night, but people who see the importance of this project and want to support it can also contribute.
Learn more about the art installation or donate to help make it happen!
5) TRIP RAFFLE //
YOUR CHANCE TO WIN ONE OF THREE AMAZING TRIPS
6) SUPPORT & CELEBRATE DOWNTOWN //
SHOW YOUR LOVE FOR YOUR DOWNTOWN
Brant Suter: I love going to the event to interact with supporters of the Downtown Renaissance.  There are many silent/live auction fundraisers and this event has an awesome vibe, great food and drinks, and the venue adequately supports a large crowd.
Andrea Dono: There is nothing that I love more than to see people enjoying downtown and having a great time in the places HDR works so hard to support. A big part of this event is the vote of confidence that we get from community members who come to this event in particular because they love downtown and support the work that we do.
Jaime Woolf: My favorite part of Renaissance Night is having the community all come together to enjoy a night of celebrating the success of Downtown Harrisonburg. The feeling of support and community is very apparent.
Lauren Huber: All proceeds benefit HDR. Which will allow us to continue the programs that are making downtown the destination it is. A strong downtown effects the entire community. A vibrant city center brings more business, more people, and more pride to our community. Downtown and what HDR contributes to the community is often used to recruit new businesses and staff, and can make or break if someone decides to relocate here.
Do you want to get in on this fantastic downtown party?