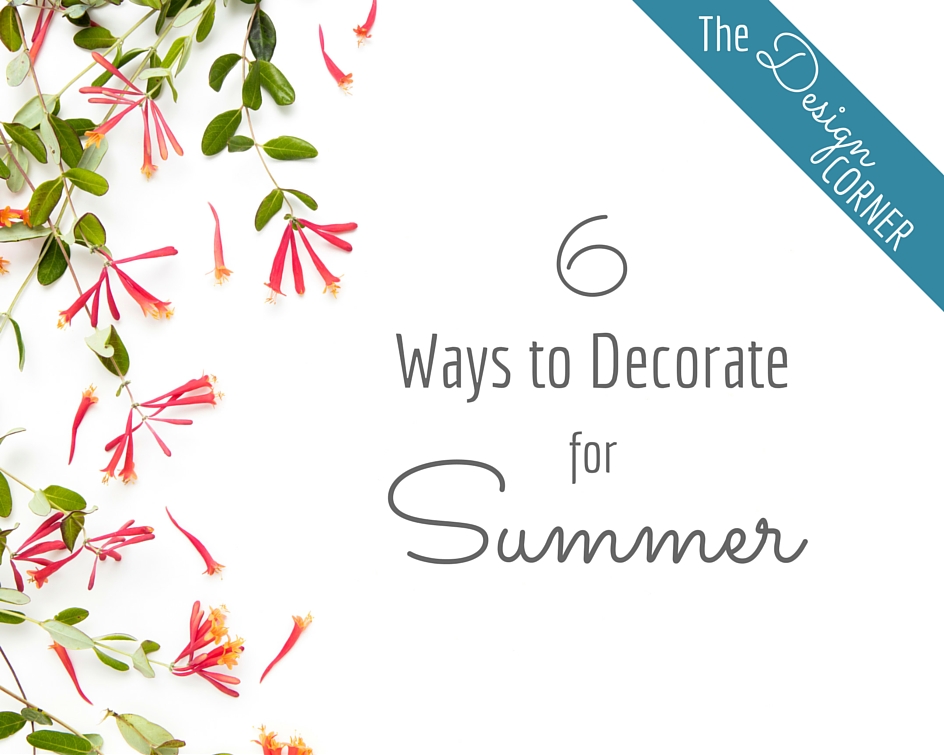 What thoughts come to mind when you think of summer?
The beach.
Cool breezes.
Fresh flowers from the garden.
Chilled lemonade.
Outdoor gatherings.
Ahhhh… yes. So now the goal is to decorate in such a way that your home conjures up those feelings. We've compiled a few tips to help get you thinking summer for your home.
USE THE BEACH'S COLOR PALETTE //
Even if you're not someone who loves the beach, you can't deny that the cool surf on the hot sand in the warm sun are quintessentially summer. Try using beachy colors in your home for summer decor – seafoam greens, aqua, teal, various shades of blue, bright whites, and sandy neutrals.
BRING THE BEACH HOME //
Use nautical items and patterns to accent your decorating. Warning: it is possible to go overboard with the nautical theme… but a few well placed shells or fish patterns can quickly conjure up that refreshing feeling of the ocean in summer.
CITRUS AND FRUIT ACCENTS //
Use the beautiful bright colors of nature to accent your decor – citrus and other fruits are a fantastic and stylish way to add a pop of color to any room.
GARDEN COLORS //
Let your garden inspire you in your interior decorating as well. Harness those bright floral colors and add them to your decor. Or, better yet, keep vases of fresh cut flowers around in your home all summer. If you don't have a garden (or at least not one that you're proud of) all the more reason to use bright pops of color in your decorating.
KEEP IT COOL //
Try to capture the feeling of a refreshing summer breeze in your decor by using lightweight fabrics. Pack up anything cozy and replace it with airy, breezy items instead.
TAKE IT OUTSIDE //
Summer is a time of gathering with family and friends for casual outdoor activities. Set up an outdoor living room with all the comforts of the indoors to make it even more appealing to relax outside on a cool evening.
What is your favorite way to decorate for summer? Comment to share it!