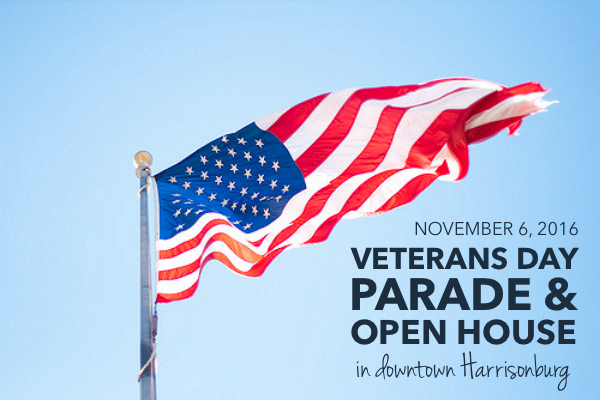 The annual Veterans Day celebration in downtown Harrisonburg is always a special treat and an honor to be a part of. Our team is proud to open up our office — Wilson Downtown Gallery — during this special event to anyone who would like some free refreshments or to view the art currently displayed on our gallery walls by local artist, Brenda Hounshell.
The full lineup of events during the Veterans Day Celebration
SUNDAY, NOVEMBER 6, 2016
Open House at Wilson Downtown Gallery — on the parade route! — with FREE light refreshments and a variety of beverages. (Our office will be open from 1:00 PM until 30 minutes after the parade has finished.) [directions to our office/gallery]
Parade — moves south on Main Street from the Rockingham County Administration Building at 20 East Gay Street to City Hall at 345 South Main Street. [map of parade route]
Reception for veterans and their families at Harrisonburg High School, followed by the 7th Annual Concert with patriotic works by the Harrisonburg High School Music Department. [directions to HHS]
Remember to wear red, white, and blue to honor our veterans!