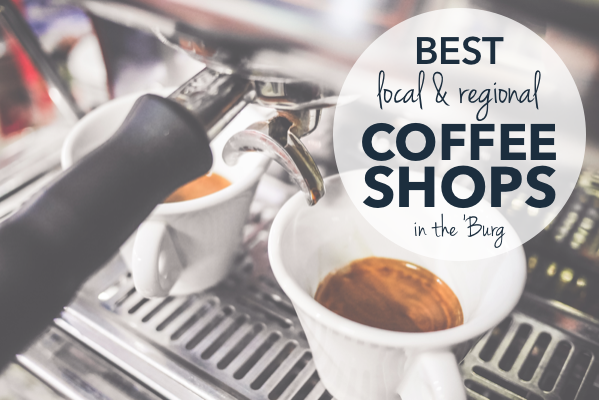 First we drink the coffee, then we do the things.
Our team consists of both avid coffee drinkers and occasional sippers, coffee snobs and K-cup connoisseurs. We often meet up with clients — and each other! — at these local and regional coffee shops in Harrisonburg where this delectable brew plays a major role on the menu, so we're confident in saying they are the best. But if you ever want to stop in to our office (which doubles as an art gallery) for a hot cup of joe, we'd gladly welcome the company and can enjoy some brew together.
Best Local/Regional Coffee Shops in Harrisonburg

If instant ground coffee from a can is your jam, avoid Bella Gelato, because this sweet shop not only serves the most amazing gelato made from local ingredients, but it also brews a delightful assortment of espresso and coffee concoctions. The Red Eye — a shot of espresso dripped into a regular brew — is a jolt of pure heaven. Or try the Affogato — a scoop of gelato in a cup of joe? Yes, please! Order your cup of choice and either watch the passersby from inside or outside the shop on Water Street, or take a stroll around downtown while sipping and shopping.

Tucked behind Pale Fire Brewing in the Ice House downtown sits Black Sheep Coffee, which invites you in with charm and the delightful aroma of freshly baked pastries mingling with the scent of glorious roasted coffee. Chat with a friend on the comfy couch or plug in at the side bar and sip your favorite brew. Any of their espresso choices pack an amazing punch, but if pour over coffee is your favorite, your heart may explode with the number of options on the menu. And if you're in tow with non-coffee lovers (*gasp!*), they'll have plenty of tea, soda, or cocoa choices.

Running errands or otherwise spending time outside of downtown? Nooooo problem. Cinnamon Bear is situated between James Madison University and Costco on University Boulevard, and offers a fabulous variety of espresso drinks — um, Snickers Bar Latte?! — and drip coffee to please your palate. Bonus: they serve breakfast all day. It doesn't get much better than that.

This walk-up coffee shop on — you guessed it — Court Square is one of our favorites because it happens to be one block away from our office, but it also happens to serve some of the best coffee and espresso in the 'Burg. The customer service is always friendly, which obviously adds to the wonderful experience of visiting Court Square Coffee, and the coffee is always fresh and local and affordable. It's a win-win-win!

A busy schedule often means grabbing coffee on the go, and Greenberry's is the only local shop in Harrisonburg that has a drive-thru. (Well, technically, its a regional chain.) However, we often meet up with clients and friends inside the shop because they also happen to serve sandwiches and treats and offer plenty of seating. If that's not enough to make it cool, the building was converted from an old gas station!

One of the newest coffee shop additions to downtown is Shenandoah Joe, which originated in Charlottesville and added this branch in the Urban Exchange building of Harrisonburg. Boy, are we glad they did! Lots of indoor and outdoor seating in an eclectic, comfortable atmosphere add to the experience of sipping on a cup of local java. They roast their high quality coffee by hand in small batches. Nothing is automated. And you can taste that quality of care in every sip.
Which Harrisonburg coffee shop is your favorite?

Comment below!