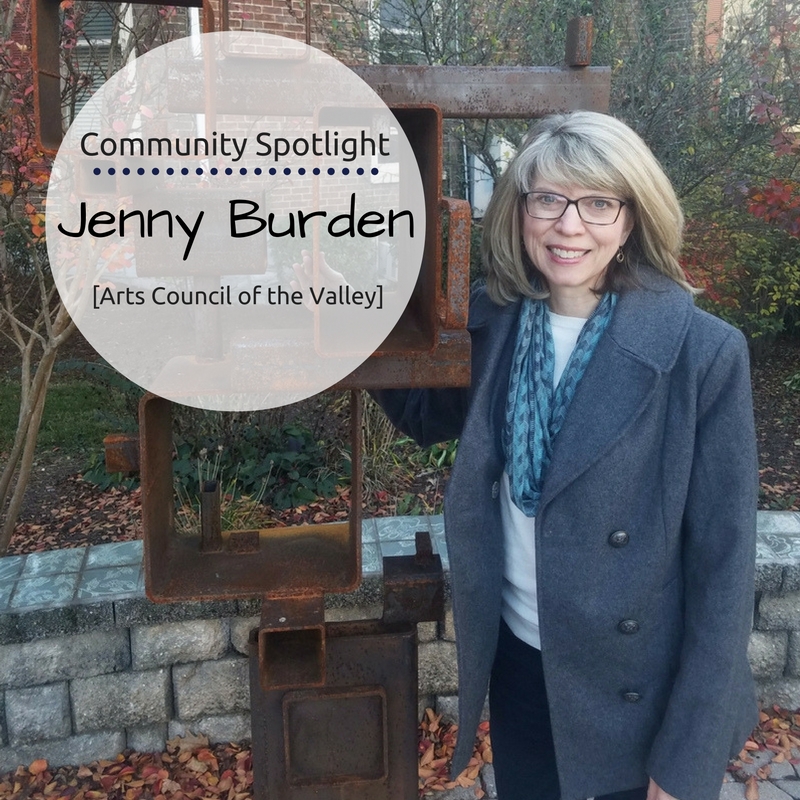 We as a Team love and support the Arts Council of the Valley and the work they do to make life more enriched for all of us in Harrisonburg. We recently had the chance to talk with Jenny Burden who was a member of our Team before taking on the role of Executive Director at the Arts Council. Needless to say, she has a special place in our hearts and we're thrilled with the work she's doing for arts in our community.
Read on to get the inside scoop about what Jenny loves about her job, what's happening at the Arts Council, and why we should all support the arts in our communities.
How long have you been Executive Director of the Arts Council?
JB: 19 months!
When did you first develop a passion for the arts?
JB: As a child I was always involved with the arts, primarily visual and musical. At a very young age I began taking classes at our local museum, the Huntington Museum of Art–everything from photography to ceramics to oil painting. I took piano lessons for ten years, from third grade until I graduated from high school. Although I loved the theater, I wasn't much for being on stage myself.
What do you enjoy most about your position at the Arts Council?
JB: I enjoy working with people who are equally passionate about the arts. I enjoy getting to know the vast community of artists right here in Harrisonburg/Rockingham. Artists are fun, interesting, intelligent, thoughtful, thought-provoking people.I enjoy going to Court Square Theater.
What are you most excited about that the Arts Council is doing right now?
JB: We are in our fall cycle of grants–the Advancing the Arts Grants. Grant applications from artists and art educators have all just come in. I love giving away money to artists and art educators. It is one way we show support for them. Last year we gave away nearly $15,000. We hope to do the same this year.
What are some fun things happening in the future?
JB: Court Square Theater always has fun things going on, whether a cool, first run film, a play, a concert, or a rental. Rocky Horror Picture Show is always fun–we show it with a shadow cast from JMU at this time of year. We will have a Small Works show at the Smith House Galleries in December–hoping to encourage holiday shopping. This may not sound like fun, but definitely exciting. We are starting a seat campaign in November to raise funds to replace the seats at Court Square Theater. The seats were not new when they were purchased for the theater eighteen years ago. Friends of the theater have been asking us to replace the seats for a long time.
In your opinion, why should Harrisonburg support the arts?
The arts are vital to a community economically, socially, and educationally. The Arts:
bolster educational growth and development
appeal to prospective new business owners
further community partnerships
increase tourism
enhance Harrisonburg/Rockingham County's quality of life
Is there anything else we should know about the Arts Council?
JB: Our mission is to promote the arts and to provide memorable arts experiences. Through events at Court Square Theater, exhibitions in the Smith House Galleries, First Fridays Downtown, and Advancing the Arts Grants, we are striving to fulfill that mission. Of course, we could always use help–we are looking to build our volunteer base. If anyone is interested, please give us a call or stop by! Our administrative offices are located in the Smith House., 311 S. Main Street (next to the Quilt Museum).
To get a little taste for some of what the Arts Council of the Valley is doing around town, come downtown on a First Friday and check out some (or all!) of these venues.