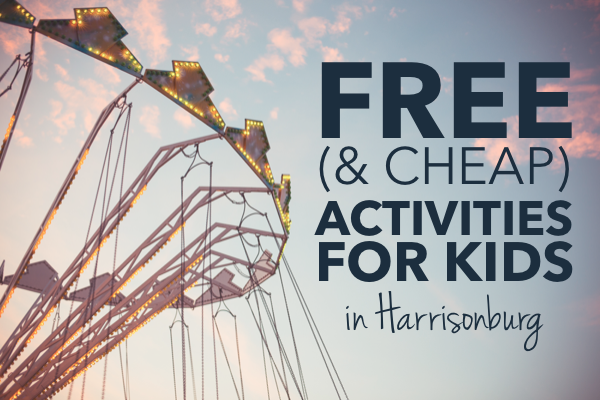 Harrisonburg loves kids, and kids love Harrisonburg! There are so many fun things to do, but when you want to have fun without topping it with a hefty price tag, what do you do? Many families in our area have multiple children, and/or enjoy spending time with their buddies doing fun activities around the 'Burg. Next time you've got a bundle of kids and some time to spare, these free (and cheap) activities in Harrisonburg will not disappoint.
Books & Story Time
LIBRARY EVENTS // The Massanutten Regional Library includes several branches that hold numerous FREE events for children, from LEGO club to Family Flicks to Preschool Activities and more. View their full calendar for details.
BARNES & NOBLE // One of Harrisonburg's favorite bookstores, Barnes & Noble has a FREE weekly story time (on Saturday mornings at 11:00) and other fun events throughout the year. Take a look at their events schedule for information.
CHICK-FIL-A // Always a fun time for kids, Come & Play is on Thursday mornings at 10:00, offering FREE story time and activities for littles. There are also many events at our local Chick-fil-A during the evening hours, if that works better for your schedule. Here are the details.
GREEN VALLEY BOOK FAIR // Thousands of books at DISCOUNTED prices means you can buy a lot of entertainment at a great price, but there are also FREE story time events at the Green Valley Book Fair. More info on their events page.
Parks & Outdoor Fun
BRIDGEWATER ICE SKATING, MINI GOLF & PAR 3 // Generations Park on Main Street in Bridgewater is home to an ice skating rink during the winter months, and an outdoor farmers market during the warmer months. Also, a new mini golf course opened up recently adjacent to the par 3 course by the river at Sandy Bottom. All of these activities are FREE for Bridgewater residents — and a SMALL FEE for non-residents. Other exciting activities are also planned at Generations Park throughout the summer months, such as concerts, movie nights, and art lessons — all FREE! Get more information.
LOCAL PARKS // Harrisonburg and Rockingham County boast a plethora of FREE parks (and many inexpensive recreational activities) through Harrisonburg City Parks and Rockingham County Parks services. From biking and walking trails to sand volleyball courts to frisbee golf and more, there is no shortage of fun to be had in  these fun outdoor spaces.
MULLIGAN'S MINI GOLF // Kids 4 & under can play for FREE (with paid round) at the new outdoor mini golf course at Mulligan's Golf Center, which also features a great driving range.
HIKING // We are privileged to live in the Shenandoah Valley, a place with so many incredible FREE outdoor activities like hiking and biking. Check for a trail that suits your crew in Shenandoah National Park, Reddish Knob, and many more local hiking spots.
LABOR DAY CELEBRATION // Every Labor Day in Bridgewater, Oakdale Park opens up FREE amusement park rides for the community! Kids will enjoy hours of fun riding as one last hoo-rah for summer.
Athletic Events
COLLEGIATE ATHLETIC EVENTS // Harrisonburg is home to James Madison University, Eastern Mennonite University, and nearby Bridgewater College. Most home games are FREE at EMU and BC, and some sports have FREE admission at JMU. Kids 8th grade and younger can join the JMU Puppy Pound for $10 each to get a free t-shirt, pre-game parties from Chick-fil-A, FREE entrance to select JMU home games, and more.
HARRISONBURG TURKS // Our very own minor league baseball team offers $1 admission for kids age 12 and under. Enjoy a game at Memorial Stadium and root, root, root for the home team!
Indoor Fun
BUDDY BOUNCE AT PUMP IT UP // If you need some indoor, get-that-energy-out time, head over to Pump It Up for Buddy Bounce during Open Jump! It's $5 per kid (they have to be buddied up), and you can check their calendar for regular open jump times.
HARRISONBURG FIRE DEPARTMENT MUSEUM // Check out the fire memorabilia, meals, uniforms, equipment, and more at the HFD Museum, located in the public safety building on North Main Street. Admission is FREE!
JMU PLANETARIUM // Head over to the JMU Planetarium and catch FREE shows every Saturday, plus many other free events throughout the school year.
SUMMER DOLLAR MOVIES AT REGAL CINEMAS // Every summer, Regal Cinemas hosts a popular Summer Movie Express where every ticket is just $1. Ten people in your crew? Watch a recently-released movie for just $10 on the big screen.
"Field Trip" Fun
FARMERS MARKETS // The Dayton Market and the Shenandoah Farmers Market both feature toy shops, bakeries, and candy stores where the kids can enjoy time playing and snacking on yummy treats at good prices.
FIRE STATION OPEN HOUSES // The Harrisonburg Fire Department hosts several events throughout the year that are FREE and fun for the kiddos. Take a look at their events calendar for details.
PUMPKIN PATCHES // There are several places to get pumpkins around the 'Burg, but our favorite place to go with kids is Mulberry Hills Farm on Cross Keys Road. It is FREE to roam the patch, take pictures at their face cut-out frames, visit the farm animals, and enjoy the incredible Valley views. The pumpkins and gourds are very reasonably priced, if you choose to take some with you!
MOUNT CRAWFORD CREAMERY // Take a FREE self-guided tour of one of the area's favorite farms! Help feed the baby calves at 3:00 PM every day, or watch the cows being milked at 3:30 PM. There are also fun events with FREE admission during the year, such as their annual open house each summer, and Milk & Cookies with Santa.
WHITE OAK LAVENDER FARM // Nestled in a piece of beautiful rolling countryside just east of the city (off of Cross Keys Road) sits White Oak Lavender Farm, with a fun discovery area that includes a petting area, life-sized checkerboard, duck pond, distillery, drying barn, gardens, and more. Admission is $3/person; kids 2 & under are FREE. Also on the grounds is a gift shop that is not only fun to peruse, but also smells delightful!
Regular Downtown Events
FIRST FRIDAYS // Lots of FREE fun can be had every First Friday of the month from 5:00 – 8:00 PM in downtown Harrisonburg! Explore More Discovery Museum offers free admission, kids can enjoy visiting several art galleries (including our very own Wilson Downtown Gallery, with a "little artists" station for coloring!) for free, and several downtown eateries are open as well.
FRIDAYS ON THE SQUARE // On Friday nights throughout the summer, grab a blanket or a lawn chair, pack a picnic dinner (or visit any of the outstanding downtown restaurants), and plant yourself on Court Square for an open air concert — the kids can run around on the grass. A nice variety of great musicians are featured throughout the summer, so make sure you go more than once. It's FREE!
GOBBLE GOBBLE KIDS DASH ON THANKSGIVING // Kick off your annual Thanksgiving celebration with a fun run in downtown Harrisonburg! Kids ages 3 – 12 can run around Court Square (0.35 miles) for FREE after a bit of music and warm-ups, and then receive a finisher award.
DOWNTOWN CHRISTMAS PARADE // The ever popular downtown Christmas parade never disappoints at any age. Bundle up and find a spot along the parade route to enjoy an evening of the JMU Marching Royal Dukes, local businesses and organizations with festive floats, FREE candy, and much more!
VETERANS DAY PARADE // The annual FREE Veterans Day Celebration in downtown Harrisonburg offers a parade in honor of our local veterans, plus a reception and concert by Harrisonburg High School to cap off an always wonderful afternoon.
VALLEY 4TH // No Independence Day is complete without a festive party, amazing food, and fireworks! Enjoy a day filled with fun FREE activities, live music, and an evening topped off with a professional display of fireworks in the night sky.
FIRST NIGHT // One of Harrisonburg's best downtown events is First Night on New Year's Eve, where you'll find lots of FREE activities for all ages, live concerts, amazing performances, art galleries, and more… and obviously concluding with fireworks to kick off the new year.
HALLOWEEN // Halloween in downtown Harrisonburg is a FREE candy- and costume-filled delight! Dress up and head downtown with your bucket or bag and gather up candy from several businesses and shops, plus enjoy great food and live music.
What is your favorite free/cheap kids activity in Harrisonburg? Share in the comments!