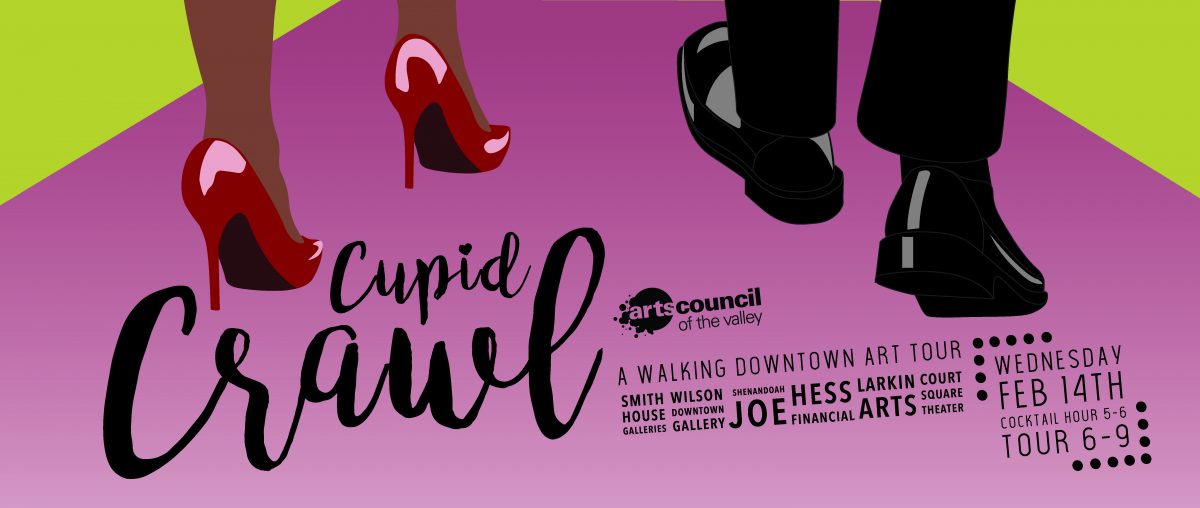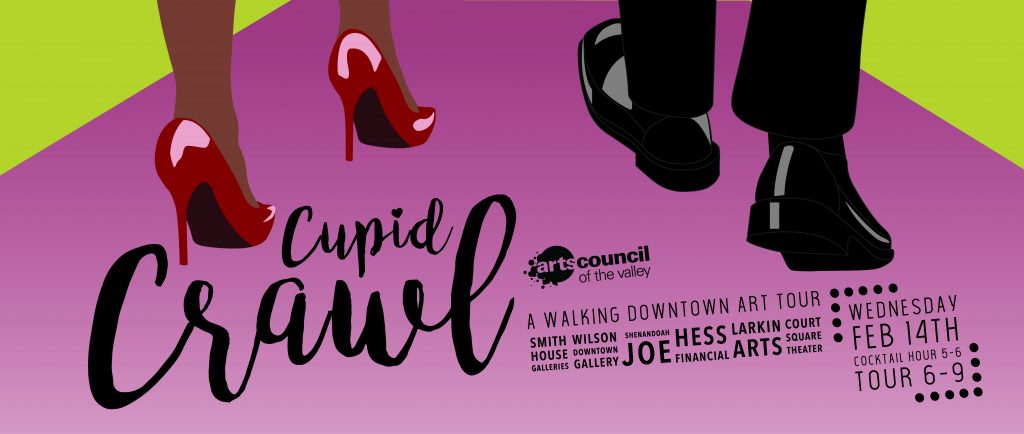 Looking for something fun to do with your sweetie on Valentine's Day? Looking for an art-filled evening with friends? The Arts Council of the Valley is hosting the Cupid Crawl Fundraiser on Wednesday, February 14th starting at 5:00pm – an evening "crawl" with a handful of downtown art galleries, delicious food and drinks, and an optional free showing of a film at Court Square Theater afterwards! We at the Wilson Downtown Gallery are honored to be part of this amazing event! Read below for Jenny Burden's and Cate Bruns' thoughts on the Cupid Crawl!
Can you tell us a bit more about the event?
Jenny: The event is the brainchild of two local artists, Laura Thompson and Valerie Smith. It was started last year when both Valerie and Laura were on the Arts Council of the Valley's Board of Directors. They set out to create a fundraising event that would 1) appeal to a broad range of people, 2) that would be informative of Harrisonburg's Art Scene, and 3) fun. It was called the Black Tie Art Crawl….They thought it would be fun to see a large group of people dressed up in their finest "crawling" down Main Street from the Smith House Galleries, home of Arts Council of the Valley, to Larkin Arts, stopping along the way at predetermined galleries and businesses where artists met us to talk about their work. It was a hoot! This year, led by Valerie and Laura again, we are holding the event on Valentine's Day. Hence, the name Cupid Crawl. Starting at the Smith House Galleries, we will "crawl" to the Wilson Downtown Gallery, hosted by The Harrisonburg Homes Team of Kline May Realty. Then, on to Shenandoah Joe's and Hess Financial before ending the tour at Larkin Arts. There will be a few fun surprises along the way. At the end of the tour, attendees are invited to see the movie showing at Court Square Theater complimentary of Arts Council of the Valley.
Cate: The Cupid Crawl is a spin-off of June 2017's Black Tie Art Crawl. We noted that there was some confusion during the Black Tie Art Crawl as to the seriousness of "black tie," so we tossed around ideas to make it more appealing to those who may be discouraged by such formality. A Valentine's Day tie-in offered a good transition to a formal occasion without being too glitzy, and my hope especially was that college students and young professionals may see it as a special romantic date night.
What are some of the specific artists you are looking forward to seeing?
Cate: I'm most looking forward to the MFA students at Wilson Downtown Gallery! I love seeing student work, and I'm excited to see what I'm sure will be a great collection in a great space. (Thanks Cate!)
What specific programs are you hoping to fund through this event?
Jenny: Our signature fundraiser for the past six years has been the Progressive Party. The idea of progressing is not new to us. Our Advancing the Arts grants program allows the Arts Council to give much needed funds to artists and art educators in the community to complete valuable art projects. Go to http://www.valleyarts.org/advancing-the-arts-grants/ to see those projects that have been funded in the past, including what we funded this past fall. I am looking forward to adding to the spring cycle of the AAG fund. We no doubt will receive a plethora of applications again. It is our greatest pleasure to give funds to artists and art educators.
Cate: Obviously ACV has a full-slate of programs, including two venue spaces, two community initiatives, and our recent addition, Any Given Child Harrisonburg. I think the better question would be what program won't be funded through this fundraiser – everything we raise is going to touch community members in one way or another! One of the coolest things about Cupid Crawl is that each of the venue stops, and subsequently the artists they are featuring, also participate in First Fridays Downtown. These are businesses and people that are truly dedicated to helping the downtown Harrisonburg community, so I hope that attendees realize how lucky they are to be engaging with these truly altruistic spaces and artists.