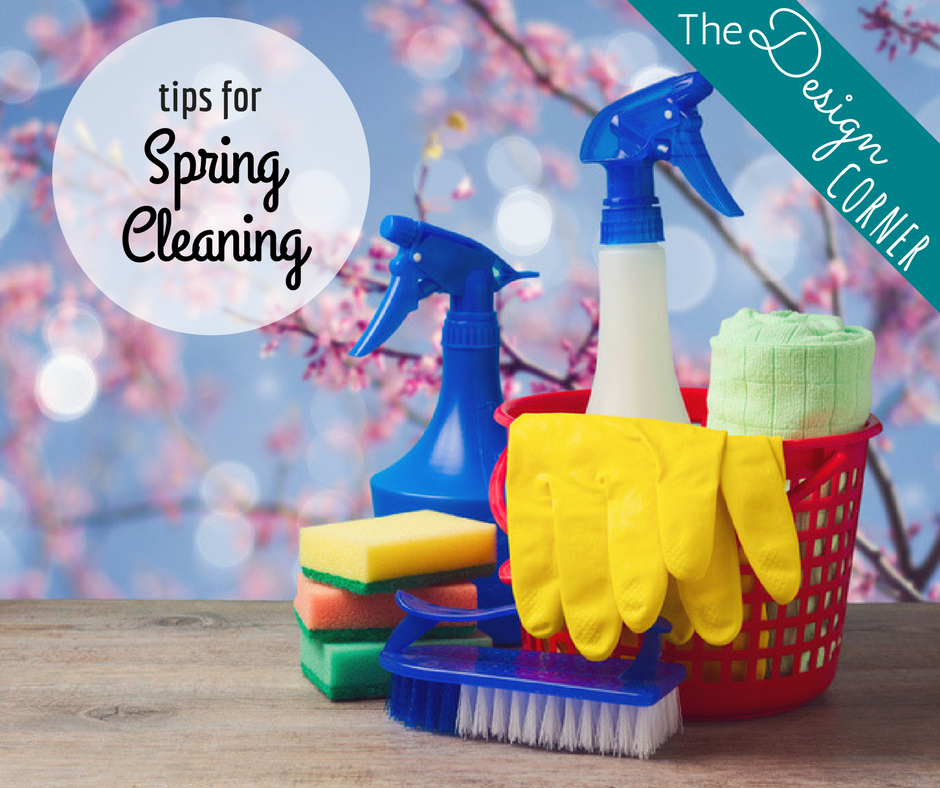 Spring is here!   It's the perfect time of year to give your home an overhaul.  I don't know about you but at this time each year I usually feel the need for a refresh of my living space.
I recommend starting with a thorough decluttering.  Walk through the house room-by-room and collect all the items that are out of place that you've been meaning to put back or get rid of or toss.  Once you've removed the clutter and taken care of it, you can focus on the details of cleaning.
Cleaning is not my favorite thing to do, but once it's done it's totally worth the effort.  I like to avoid harsh chemicals when cleaning, especially bleach.  Try using vinegar, baking soda, and peroxide instead.  These items are way cheaper and do a great job.  Meyers brand and Method brand of cleaning supplies are good choices as well.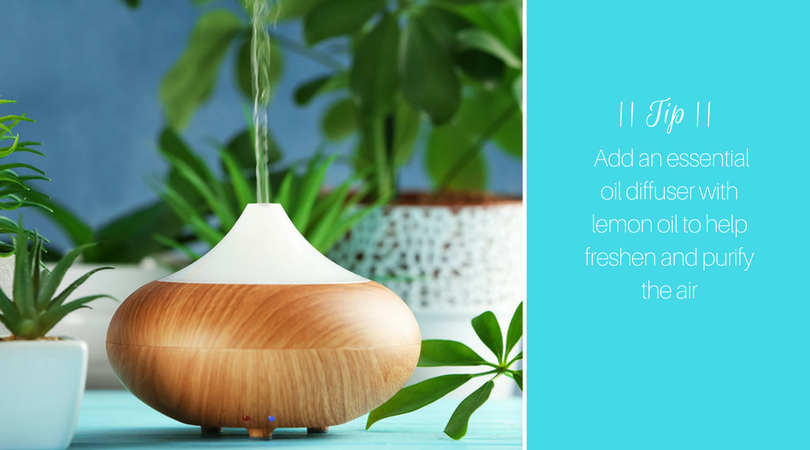 Here's a general checklist that can be used for each room to get you started:
✔Open windows to air out the house while cleaning
✔Clear cobwebs from the ceiling to the floor
✔Dust ceiling fans, light fixtures and any horizontal surface
✔Wipe down walls, cabinets, baseboards, door frames and light switches-use a magic eraser to remove stubborn marks
✔Take area rugs outside and hang over a fence or railing and use a broom to knock off the dust and built up debris, leave out in the sun for an hour to air out
✔Vacuum and then damp mop floors and let dry before returning any area rug
✔To freshen a mattress after removing the bedding sprinkle with baking soda, let stand for 30 minutes or longer and then vacuum it off
✔Vacuum drapes or if possible take outside and shake out then re-hang
✔Add an essential oil diffuser with lemon oil to help freshen and purify the air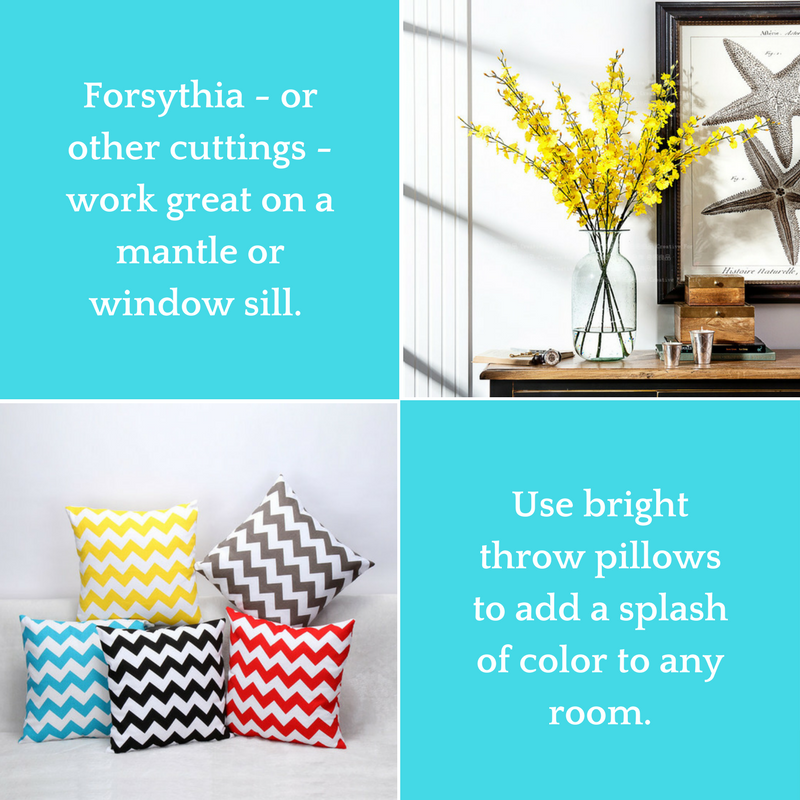 After the decluttering and cleaning are complete you can make just a few changes to the décor to give your space a refreshed look.  Focus on adding new touches in the main rooms of your home and keep things simple.   Add some live green plants or cut flowers to your living room. Gather a few branches from your landscape, place in a pretty vase on your mantle and allow them to bloom in your home – forsythia works great for this.   Replace the throw pillows with a few new ones in bright colors.   Add a few candles in spring scents.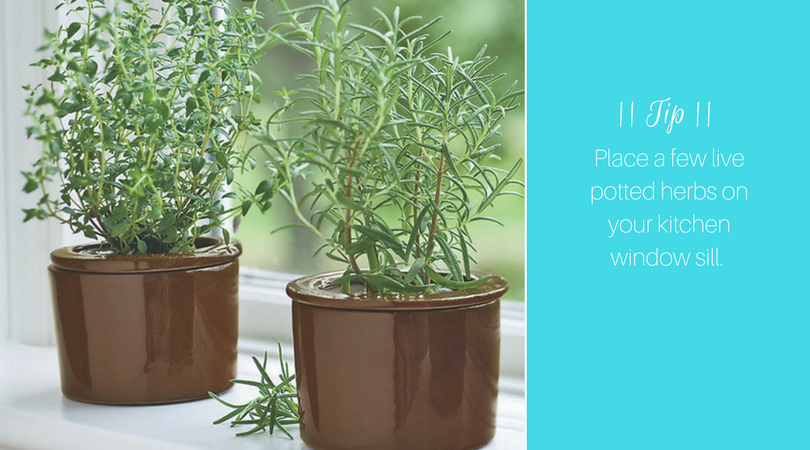 Place a few live potted herbs on your kitchen window sill.  Hang a spring inspired wreath to the front door and a new welcome mat to instantly freshen your front entrance.  I always believe that by keeping things simple you get the most impact for your effort.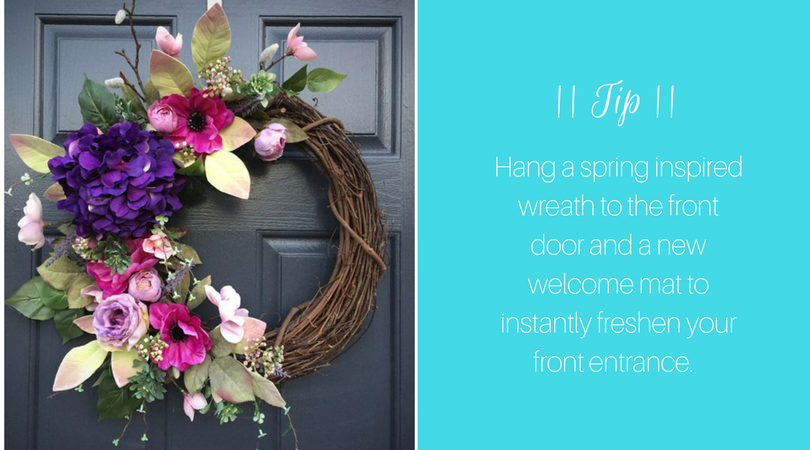 Enjoy the spring season and be inspired!