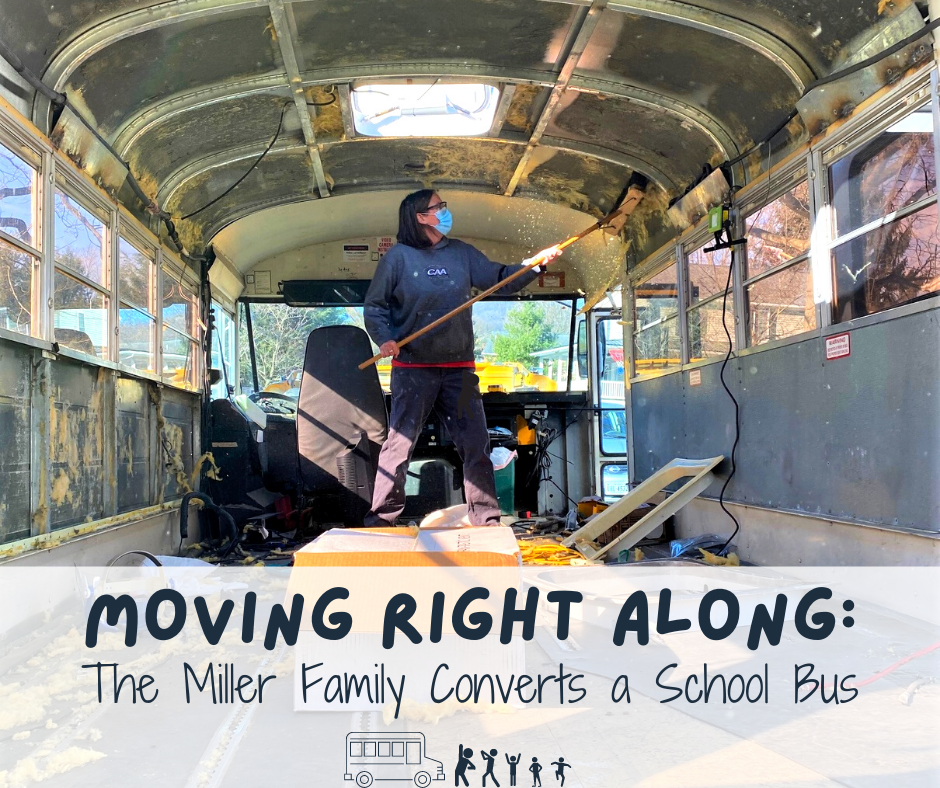 Ever since we started this project, I've been wearing "bus goggles" (a close relative to beer goggles but without the alcohol) and everywhere I look I see "bus potential".  While school bus sightings are not as common right now, whenever I see one, my heart skips in delight at the potential encased on those wheels.  I am now a bus aficionado, having stripped our bus to its bones, crawling in, over, under, and through it for hours.  I know which Philips head screwdriver will fit for each type of screw, how thick the plywood is that covers the floor, which socket wrench will fit into the tight spaces under the bus, and which paint brush best covers different sizes of metal encasing the windows.
Here are some examples of "bus goggles".
I recently showed a house that had been built to run completely on solar power.  My client is an experienced electrician, and we spent 20 minutes examining the 12-volt outlets (think cigarette lighter in a car) and talking about what appliances and electronic devises could be used at these outlets.  This topic is discussed often at our house as we try to figure out the solar panels, bus battery, and back-up batteries needed to run everything on the bus.
Having removed every screw and bolt in the interior of the bus, I now notice these everywhere.  And I am not the only one.  When walking in the park, one of the boys will point to all of the screws holding a bench together, and we all give a knowing grimace and chuckle in recognition of our nemesis.
With a son who is 6'2", the interior height of the bus is a concern.  Each quarter of an inch is considered as we contemplate insulation, flooring and ceiling materials.  Now as I show houses to clients, I have a mental tally going in the back of my head as we examine floors together and discuss things like maintenance, durability, repairs, and possible water intrusion.  Will this flooring work on the bus? Could we use it for the dividing wall?  If we shaved off part of the "tongue", could we use a tongue and groove maple floor for part of the curved ceiling?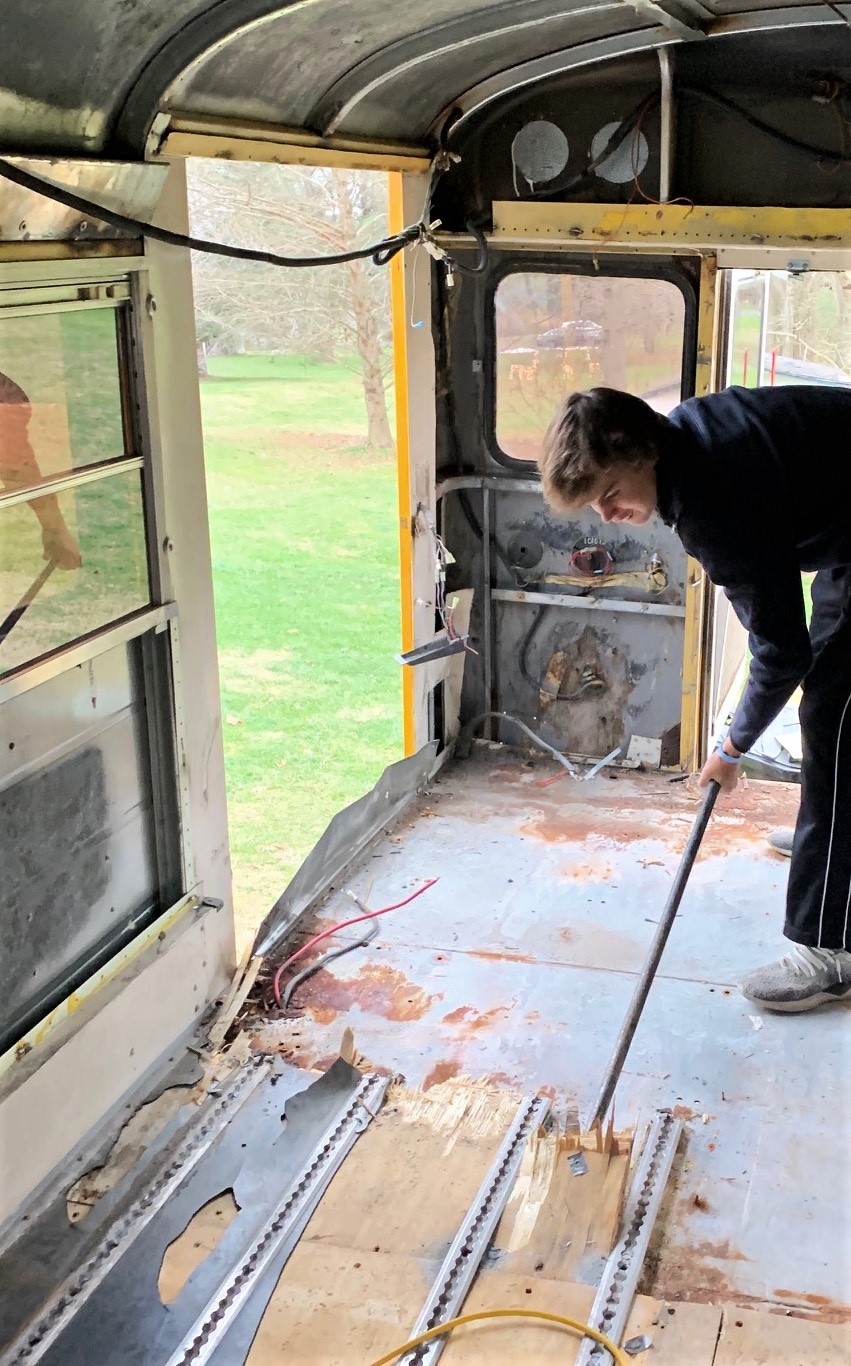 One of the blessed side effects of "bus goggles" is that I don't have the mental space to worry as much about things I can't control, like COVID or political unrest.
I am also treasuring up positive experiences with my family, friends, and neighbors that relate to the renovation.  I have an image of my two oldest sons working in tandem to pull insulation from the ceiling.  When Drew asked how we would be able to find enough pennies to cover hundreds of tiny holes in the floor (you use pennies made before 1982), I sent a text to a group of moms with young kids and offered $.05 for every penny.  In two days, we had over 400 pennies dating back from 1981 to 1934.  Now each of those kids will know that their pennies are part of the bus project; and if times get tough, we will always have $4.00 hidden on the bus.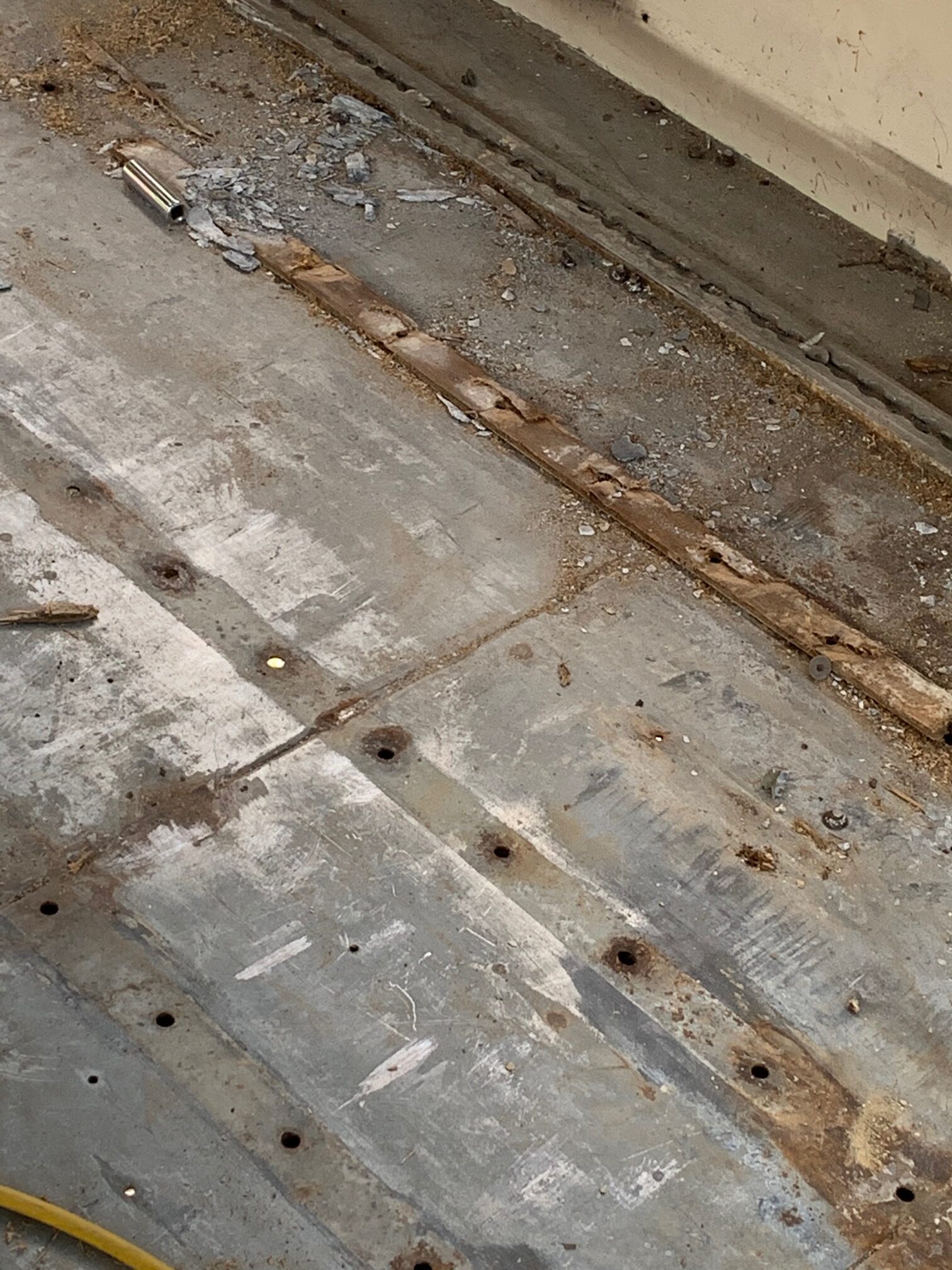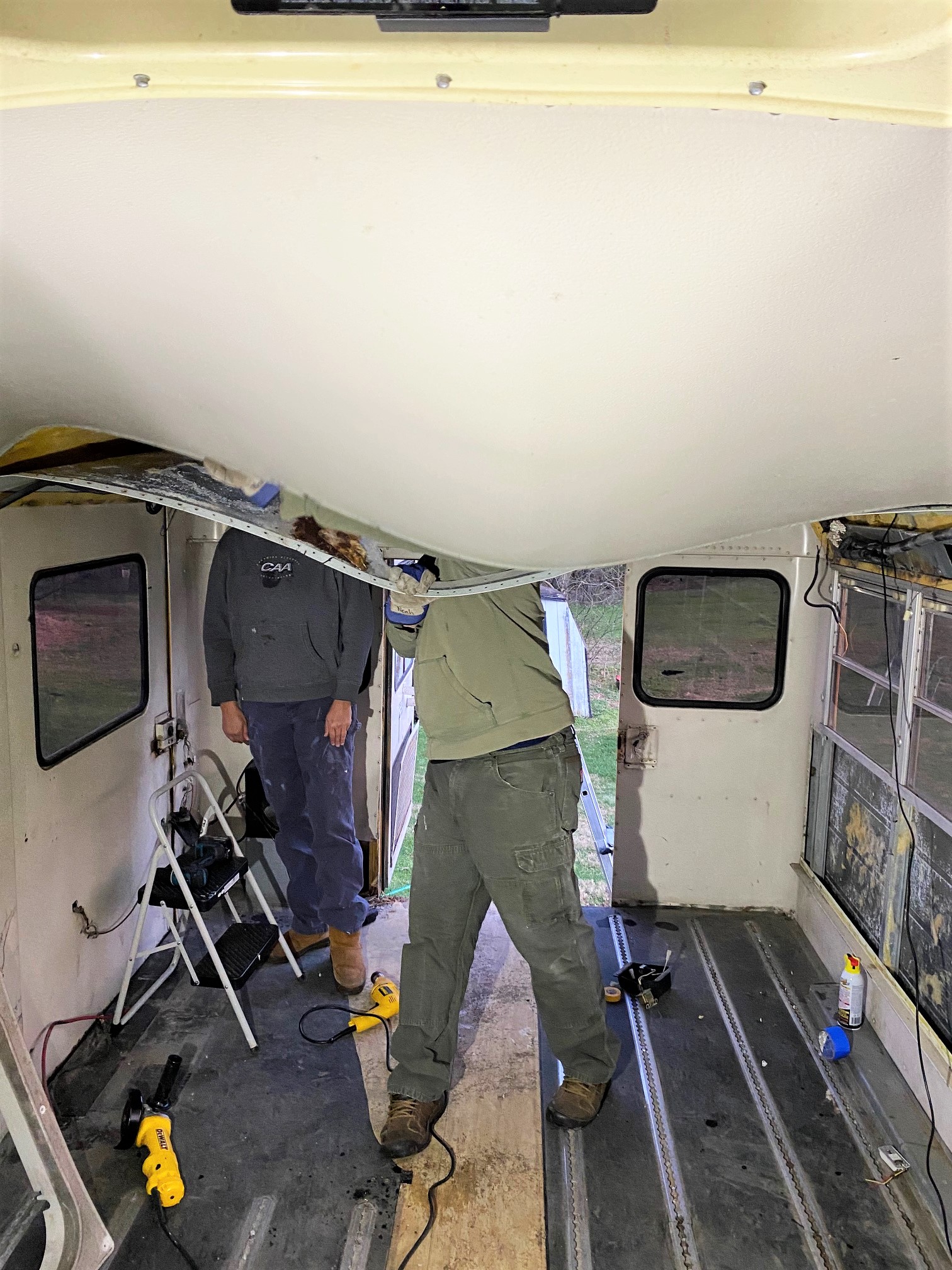 Since the bus is outside, it is a COVID friendly "stop and chat" opportunity.  I inwardly cringe at the close examination of the mountain mural that I had thought would only be seen from a distance or at high speeds.  But I reconcile myself with the thought that it is bringing joy to others during this time when we have few points of connection with friends and neighbors.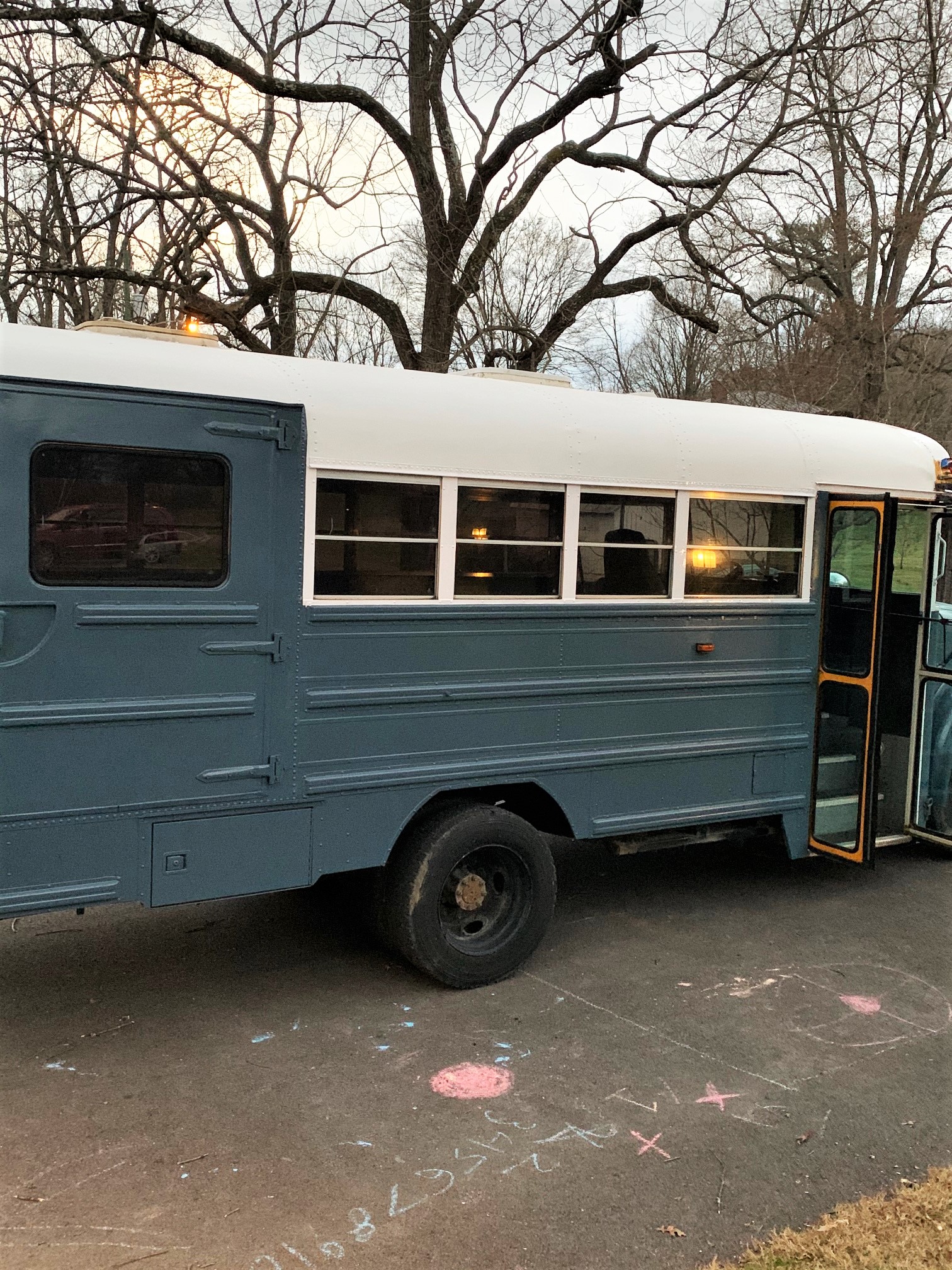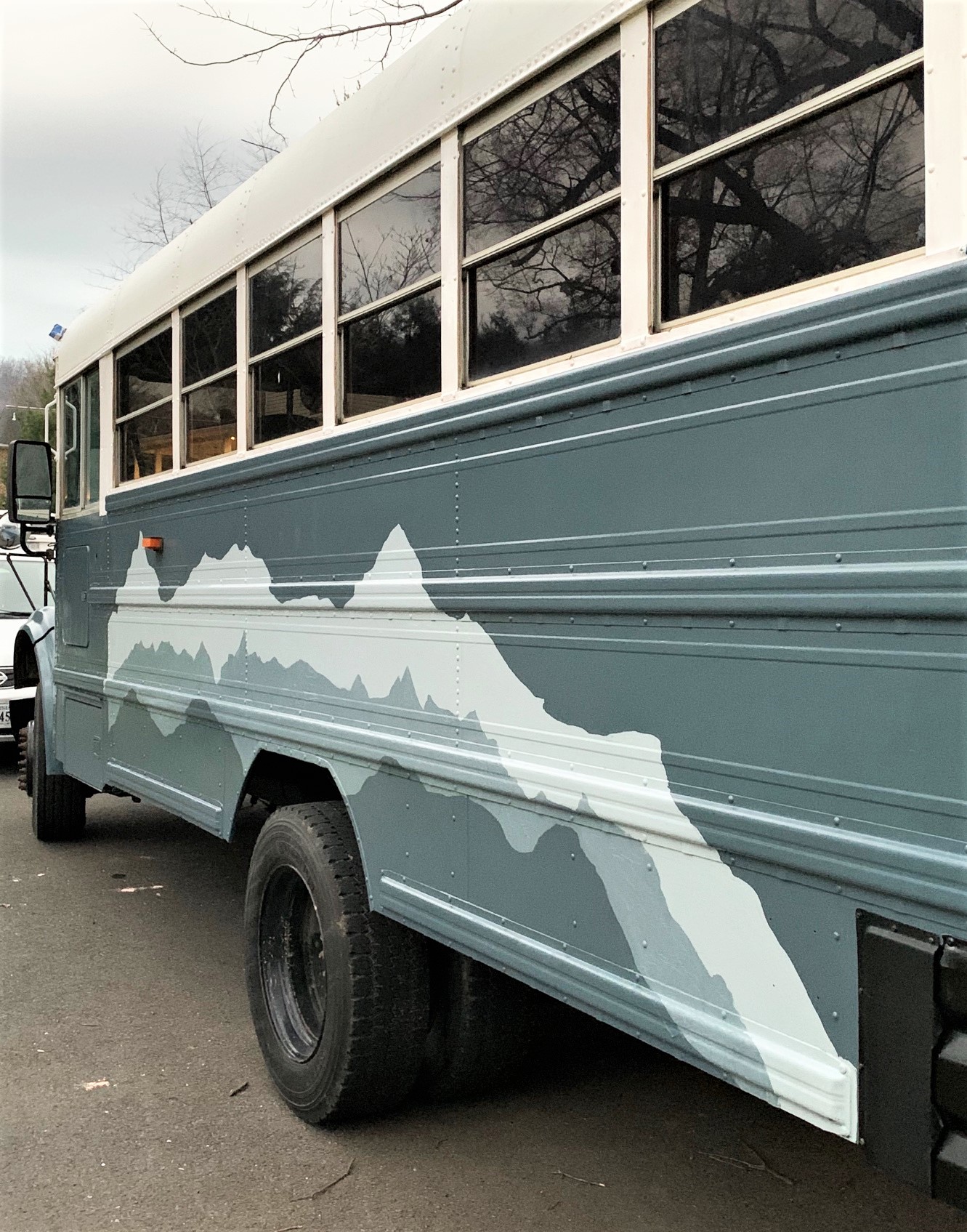 Here is what we have done in the past two months:
Painted the entire exterior blue and white and added a clear coat.

Removed the metal interior walls and ceiling.

Removed all insulation

Pried up the rotten plywood.

Removed the metal strips that used to secure the bus seats (the most tedious and exhausting part of the whole demo)

Removed the captain's chair.
Up next:
We will sand the metal subfloor to remove rust, seal the metal floor to prevent new rust, and insulate the interior.

Drew has purchased a welding machine!  We will be attempting construction of a metal, roof-top deck.  Log on to our next bus blog post to see whether it looks like a 5 year old's erector set or not.